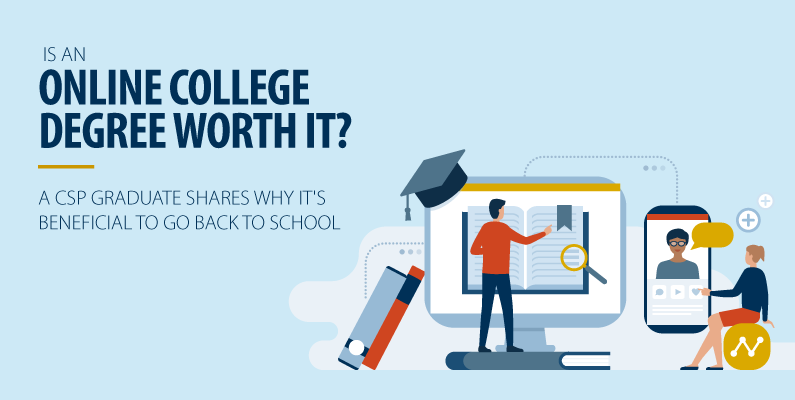 Going back to school can seem intimidating, especially when you've been away from the classroom for years – or even decades. But online degrees like those available from Concordia University, St. Paul, make continued education achievable and sustainable for working adults with busy schedules.
Alumnus Charles Graupman, an executive sergeant with the St. Paul Police, was able to complete his Bachelor of Arts in Management and Leadership degree in just three years, thanks to the flexibility and affordability of CSP Online.
He shared his experience as an online college student, gave insight into how his courses helped him prepare for a promotion, and offered some tips on how to choose the right program for you.
Can you tell us about your professional background and your decision to go back to school?
I've been in law enforcement [since 1999]. I contemplated going back to school a couple of times, but the timing never worked out. In-person learning was the only way you could go back to school [at the time], so I pushed it to the back of my mind.
I planned to get a degree in criminal justice. Later in my career, I talked to a few people who suggested getting a degree in management and leadership. One of my coworkers had gone through Concordia and had nothing but good things to say.
I ended up going to a college fair and meeting with representatives. They explained they had an online program that fit my needs, family, and work. I was able to study on my own time, which was instrumental for me.
Why did you choose CSP over other schools?
I looked at some other schools, and they weren't very [helpful]. It was on me to do a lot of things, whereas Concordia was like, "Hey, we can help you with this." Concordia was very responsive, very supportive, and they offered me a scholarship. So that was beneficial, too.
After attending the college fair and meeting the representatives, I felt CSP offered a personal touch. The programs they offered were vast, but management and leadership fit exactly what I was looking for. CSP's online program also seemed to be leaps and bounds ahead of the competition and was exactly tailored for my personal needs (i.e., having a full-time job, kids, etc.).
Advance your career with Concordia University St. Paul
Advance your career in Business
Were there any notably impactful or memorable courses or assignments?
Yes. I wrote a paper on problem-solving as part of my Leading Change course. In the paper, I addressed several topics [including] gun violence, community and police relations/partnerships, the challenges with recruitment of police officers, and staffing challenges. My goal was to outline the issues and then incorporate ways to address them by bringing all of the respective stakeholders to the table to create better awareness and efficiency by directing the proper resources to each challenge.
I chose this topic because it was relevant to our present-day challenges. Because of my background, I was able to discuss how to implement positive changes. This paper was a real-life exercise for me. I was later able to provide this paper to several of my superiors, who utilized the information.
What skills were you able to put into practice immediately at your current job?
There were definitely projects and things I was working on in my job that my education helped me with. Some project management courses, some team building courses that I had, and some business analytics classes. And some software knowledge and working with different technologies that I hadn't used before definitely gave me a leg up. So that was helpful.
How do you plan to use the knowledge gained from your degree? How do you see your CSP degree helping in your current field/career?
I'll be taking a promotional exam in the next six months or so, and my education will certainly give me a leg up. I'm a sergeant, and I'll be taking a commander's promotional exam. So it'll be a rank-type of exam that will give me more of an administrative role in the department.
When you're in a command or administrative role, you will be tasked with more projects, facilitating meetings, and prepping different strategic plans. The degree will come in very useful for that role.
I'm utilizing the degree in my current career. When I retire, I plan to pursue a career in the private sector. A Bachelor of Arts degree is the standard now in the job market, so I'm glad I did it. It was really, really beneficial.
Can you speak about your online college learning experience?
The program went very quickly. I actually finished a little early. It took me about three years, and I took two classes per semester.
Blackboard, the software that we used for the program, was easy to navigate, and the technology was good. Even for me, being out of school as long as I was, I could navigate using that.
For a lot of projects, we had to work together in a group. There were definitely things other people [brought] to the table that I didn't have experience or knowledge on, so I picked up on some of that stuff and vice versa.
Do you have any advice for prospective students about how to find the right program? What helped you choose your degree?
Before deciding on a program, take some time to think about what you are trying to accomplish, what goals you have, and how it will benefit your future. I would also suggest exploring more than one [of CSP's online program options] or having a backup plan if you begin courses and later decide on something different.
I originally enrolled in the criminal justice program, but after more thought and advice from my peers, I decided to change my major to management and leadership. Because I had an AAS degree in law enforcement (LE) and was working in the field, the criminal justice degree would not offer me as much [in terms of] career advancement if I chose to leave LE or wished to work post-retirement in the private sector.
I made the right choice. I thoroughly enjoyed meeting students from different backgrounds and levels of experience. The diversity and engagement offered me new perspectives.
Do you have any final thoughts you want to share with prospective students?
Concordia is ahead of the curve with its [online programs]. They had a lot of students that were in the military, were out of state. Obviously, there was a reason they picked Concordia because there's a lot of choices out there.
So I would say that Concordia was advanced. Other schools didn't offer online degrees to that extent. And I feel like, in this day and age, that's where we're headed. [For] students my age, with my situation, the online program is very attractive.
Learn more about CSP's online programs today.
Like Charles, you can make your goals happen with one of CSP's flexible online options. We offer programs at the undergraduate and graduate levels ideal for career changers or professionals ready to advance.
With affordable tuition, transfer credit opportunities, and accelerated courses, CSP is committed to helping you earn your degree on your schedule and your budget. Explore our online programs and find the option that's right for you.
Recommended Articles
View All