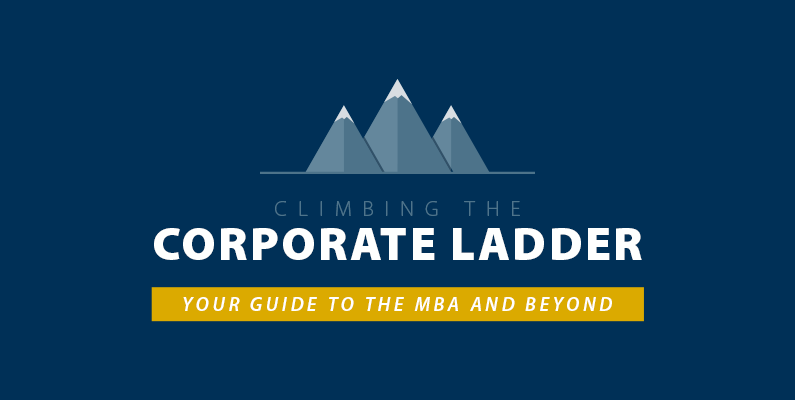 It is no secret that earning a Master of Business Administration (MBA) is one of the best ways to get ahead in today's competitive business world. Graduates benefit from a return on investment, both in terms of career advancement and salary increase.
The Graduate Management Admission Council (GMAC) has reported that "more than half of employers (57%) [planned] to increase starting base salaries" for new hires with an MBA. Add increased knowledge and skill development in core business competencies, and it is clear that pursuing an MBA is a smart choice for many students.
Employers recognize the value of the MBA due to its versatility as well. This is why the MBA was named one of Fortune's Best Graduate Degrees for Jobs. In fact, Fortune notes that MBA graduates report high job satisfaction and relatively low stress levels.
Value of the MBA
Among the many benefits of earning an MBA, one of the most significant is gaining transferable skills. The hard and soft skills gained through MBA coursework are relevant to a wide range of business careers, from accounting and finance to marketing and management. Beyond the business world, MBA graduates find work in fields like technology, health care, government, and nonprofits, according to U.S. News & World Report.
MBA holders can expect higher employment rates and increased job security because graduate business degrees have become a powerful differentiator in the job market. The same article points out that, according to the GMAC, 96 percent of employers "agreed that hiring business school graduates creates value for their companies."
In its annual employer survey, the GMAC also found that 75 percent of surveyed employers expected to hire MBA graduates in 2016. As U.S. News & World Report puts it, they "like hiring MBAs for their ability to handle complex situations, be nimble and adapt in the face of a rapidly changing global environment." Recruiters seek out candidates with strategic thinking, creative problem-solving, leadership, and communication skills, as well as analytical thinking and collaboration, Bloomberg says.
Many MBA programs offer degree specializations. Students can concentrate on key skill areas that directly apply to their chosen career path. A popular choice for many is health care management due to the rapid growth of the health care industry in recent years.
Finally, MBA programs allow students to network with individuals from diverse professional backgrounds. This is particularly valuable in today's global economy. Students are exposed to "different business practices, cultures, and points of view," along with alumni networks that are useful during the job search, U.S. News & World Report says.
Combined, these factors make the MBA one of the most relevant degree programs for graduate students.
Why Earn an MBA?
There are many reasons individuals choose to continue their education with an MBA. Pursuing an advanced business degree can help professionals meet their career goals and expand their knowledge. However, there are other motivating factors for pursuing the MBA credential. The following are just a few:
Career Change
According to industry expert Stacy Blackman, "By some estimates, at least two-thirds of MBA applicants look to business school as a surefire way to launch their career in a new direction." For those who have decided to pursue a new career path, earning an MBA can help hone skills that can be directly applied in the workplace.
Job Requirements
Some organizations require a graduate degree for all upper management positions. While getting hired in an entry-level role with a bachelor's degree is by no means impossible, professionals are more likely to be chosen for senior positions if they have the added credential of an MBA. Many companies expect entry-level hires to continue their education after a few years of work as well.
Career Advancement
For those looking to move up the corporate ladder, continuing education is key. Earning an MBA is an ideal way to become more versatile and learn the broad range of skill sets required in high-level positions. Because coursework often includes topics ranging from leadership, communication, economics, operations, and more, MBA programs prepare students for the next stage in their careers.
Of course, the reasons to earn an MBA vary depending on each individual's career goals and priorities. "When you map out your medium- and long-term professional goals, think about what gaps you have and whether an MBA could be that transformational experience that changes your career trajectory forever," Blackman says.
Once you determine that an MBA is right for you, it is important to consider which type of MBA best aligns with your desired business career. Just as the business world is varied and complex, there are many degree options available for students who know what they are looking for in their business education.
In-Demand MBAs
Two of the most useful types of MBAs are a general, business-focused MBA and a specialized MBA in health care management. Both of these degrees provide students with in-demand expertise and skill sets that are valuable in today's fast-paced and innovative marketplace. The general MBA is traditionally valuable among employers for reasons discussed above, but MBAs in health care management are a relatively new option that arose from a need for trained professionals who can address the business of health care. Learn more about each of these degree options below.
General MBA
According to the Harvard Business Review, earning an MBA "sends a signal to the marketplace." It arms students with skills related to a wide variety of fields: Organizational leadership, marketing, communications, economics, human resources, finance, operations, and general management roles are some of the most applicable.
Students are able to apply what they learn directly to the workplace and gain knowledge and competencies that are highly useful to employers. This is perhaps why, as Fortune reported in 2014, the MBA became the most popular postgraduate degree in the United States.
While the specific types of coursework you will complete depends on the program you choose, general MBA coursework is designed to provide advanced training in core business processes. Though many students have completed similar courses as part of their undergraduate business degree, MBA programs teach concepts from a high-level perspective that emphasizes management and real-world application.
Once core coursework is completed, many MBA programs allow students to choose elective courses or specializations to focus their coursework in a specific area that is beneficial to their future career goals.
Health Care MBA
With the advent of health care technology and the rapid change taking place in the industry, skill sets related to health care management are in high demand. In fact, the Bureau of Labor Statistics (BLS) reports that employment in health care occupations is expected to grow by about 1.9 million new jobs from 2018 to 2028 — more than most other occupations.
Harvard's Richard M.J.Bohmer, M.D., points out that many of the most important competencies in the modern health care system focus on management and innovation. Earning an MBA focused on health care management gives graduates the knowledge to excel in this rapidly changing industry.
In most health care management MBA programs, students learn skills that prepare them for leadership careers in health care facilities, such as supervising operations for health care systems or a specific hospital. The curriculum explores the role of core business skills in the U.S. health care system.
Another important component of health care management MBA programs is studying the function of insurance companies and physicians in patient care delivery. Understanding the intersection of these elements is essential to the successful running of health care facilities. Generally, programs focus on a combination of typical MBA coursework and topics specifically related to health care. Especially for students who studied business in their undergraduate education, health care MBA programs provide an ideal opportunity to develop stronger health care credentials to transition into the field.
For students interested in management positions in the health care field or further graduate study related to health care management, earning a specialized MBA is an ideal way to prepare for success.
Careers for MBA Graduates
The following career paths are particularly well-suited to MBA graduates. They require the skill sets and competencies that are learned as part of MBA degree coursework.
Leadership Careers in Business
According to the BLS, employment in business and financial occupations is expected to grow 7 percent through 2028, a rate that is faster than the national average. The median annual wage for management occupations is $104,240.
This data makes the following careers some of the most financially rewarding and in-demand for MBA graduates. It is important to note that all salary and growth information is dependent on variables like experience, location, and setting.
Chief Financial Officer
As executives, chief financial officers (CFOs) are responsible for managing the financial operations of a company. CFOs lead finance teams and ensure that they meet the organization's requirements as well as complying with all laws and regulations. CFOs may be responsible for putting together budgets.
The average salary for these professionals is $133,117, according to PayScale, and the BLS reports a 6 percent growth rate for top executives.
Business Development Manager
Business development managers ensure that employees receive adequate training for their positions, as well as overseeing skill development efforts on behalf of the company. They may create educational materials and teach relevant skills so that managers can pass on information to their direct reports.
The average salary for business development managers, also known as training and development managers, is $111,340. Professionals in this role can expect to see 8 percent growth through 2028, the BLS says.
Marketing Director
Marketing directors "work with department heads or other staff to discuss topics such as budgets and contracts, marketing plans, and the selection of advertising media," along with maintaining positive client relationships, according to the BLS. They earn a median annual salary of $132,620. In terms of growth, the BLS reports that advertising, promotions, and marketing management roles will grow 8 percent through 2028.
Financial Controller
Also known as comptrollers, financial controllers manage the various financial departments of a company, including accounting, audits, and more. They create reports that analyze an organization's financial health and performance, along with maintaining good standing with regulatory agencies.
PayScale reports that financial controllers earn $83,062 per year. While the BLS doesn't offer outlook information specific for controllers, it notes that a similar occupation, financial managers, can expect 16 percent growth through 2028.
Sales Director
Sales directors are responsible for overseeing a company's sales teams. They "set goals, analyze data, and develop training programs for organizations' sales representatives," the BLS says. Sales directors analyze sales statistics and develop plans to gain customers, in addition to setting quotas. According to the BLS, sales directors earn about $124,220 per year, and this field is expected to grow 5 percent through 2028.
IT Director
Also known as computer and information systems managers, IT directors "plan, coordinate, and direct computer-related activities in an organization," according to the BLS. They are responsible for understanding the technology needs of a company and creating goals around the adoption of new computer systems. The average salary for IT directors is $142,530 per year, and this role is expected to grow much faster than the national average at 11 percent.
Leadership Careers in Health Care Management
The BLS reports that employment in health care occupations is expected to grow 14 percent through 2028. This rate is much faster than the national average for all occupations. Such impressive growth is due to an aging population and federal health insurance reform, among other factors. As people have increased access to health care services, demand for trained leaders in the field is increasing.
The median annual salary for medical and health services managers, the category BLS considers relevant to most management-level health care careers, is $99,730. The job outlook for these careers is strong, with a reported growth rate of 18 percent through 2028. High demand and impressive salaries make earning a health care management MBA a smart move for students. The following careers provide the highest earning potential and job growth for qualified candidates.
Hospital Administrator
Hospital administrators are responsible for overseeing the operations of hospitals. This can include working with the press and community, coordinating various departments to meet hospital-wide goals, supervising staff, and more. Hospital administrators can also carry out human resources duties, such as hiring. According to PayScale, hospital administrators earn an average of $86,377 per year.
Pharmaceutical Project Manager
Project managers in the pharmaceuticals industry are in charge of "overseeing new products and/or new iterations of existing products within their company," PayScale says. They create reports and manage timelines for various product releases, working closely with clients to ensure that their needs are met.
The average annual salary for pharmaceutical project managers is $92,772. Though there is no specific listing for this role, the BLS reports that similar management occupations will see a growth rate of 7 percent through 2028.
Medical Practice Manager
Medical practice managers ensure the successful functioning of medical facilities such as private physician offices, hospitals, clinics, and more. They schedule patient appointments, make sure records are up to date, and manage other office staff. The average salary for medical practice managers is $60,517.
Health Informatics Manager
These professionals are responsible for all the coding and medical records personnel within a medical facility. Health informatics managers oversee compliance, ensuring that the facility follows all laws and regulations. They "should be capable of implementing new technologies to increase productivity and workflow," PayScale says. The average salary for health information managers is $71,162.
Health Care Consultant
Health care consultants usually work for large health care organizations and work with clients to identify areas for improvement and possible solutions to existing problems. This might include "observing and talking with employees and managers, writing reports, and conducting meetings with clients," PayScale says.
Other responsibilities include creating effective systems and procedures and conducting evaluations. According to PayScale, the average salary for health care consultants is $77,362. A similar BLS category, management analysts, is expected to grow 14 percent through 2028.
MBA Skill Sets
For all the careers featured in this guide, there are certain skill sets that make candidates stand out from the competition. While many of those skills are directly tied to the business world, others are "soft" skills that help professionals succeed. Through a combination of core business coursework and the skills learned along the way, MBA programs prepare graduates for ongoing career success.
Employers and recruiters view the following skills as the most valuable and sought-after in potential hires. According to Inside Higher Ed, "Employers are looking for leaders who can work as part of a team and communicate effectively." The skills below reflect both the needs of employers and key components of MBA coursework.
Interpersonal Communication
According to a GMAT survey of employers, communication skills are among the most in-demand for new hires. "Communications, teamwork, and interpersonal skills are critical—everything we do involves working with other people," one employer said. Because MBA programs require students to work with other professionals to complete coursework, they help foster the communication skills you need for success.
Leadership
Successful managers and others in advanced positions need to be able to lead their employees while motivating them to perform at a high level. "A good leader will inspire those who work with them and around them, make them feel valued, and give the whole undertaking a sense of direction," Top MBA says. MBA coursework helps give students the confidence and experience to lead.
Decision-Making
Being able to think strategically and make tough decisions is one of the core skills business leaders need. A main benefit of earning an MBA is that it prepares you to "move from a functional role to a 'big picture' one," Top MBA says. Completing the advanced coursework required in MBA programs prepares students to be forward-thinking and innovative.
Project Management
Project management skills enable business professionals to manage a team and execute projects effectively. Being able to navigate complex projects is a cornerstone of leadership and can make the difference between failure and success. Coursework in strategic management and related topics provides students with these skills and more.
Technology Management
Because technology is such a driving force in the business world, many leadership positions are only attainable with an MBA. Understanding the connection between business and technology is one of the best ways to advance in your career.
Finance and Economics
Among the most important "hard skills" that MBA programs teach are finance and economics. A global understanding of core economic topics and financial approaches shows employers that you are ready for the challenges of modern industries.
Information Analytics
This skill set is quickly emerging as a key component of success for many business professionals. Information analytics can increase productivity and drive businesses, helping them to stay competitive. Information analytics use "large amounts of data to uncover hidden patterns, correlations, and other insights," according to SAS. Utilizing this skill set helps businesses understand consumer behavior, so MBA graduates who have a grasp of these approaches provide in-demand competencies to employers.
Data Analytics (Health Care Informatics)
Data analytics in a health care setting describes "the interdisciplinary study of the design, development, adoption, and application of IT-based innovations in healthcare services delivery, management, and planning," according to the Healthcare Information and Management Systems Society.
Understanding these systems gives professionals an advantage as technology plays a more and more central role in health care delivery. MBA programs that teach this skill set prepare students for some of the most in-demand careers in the country, like those featured above.
Skills like these help MBA graduates stand out among the competition and leverage their degree for ongoing career success. While specific coursework varies by program, the hard and soft skills covered here can typically be learned through advanced business coursework.
About Concordia University, St. Paul
Concordia University, St. Paul is a private, regionally accredited university. It was founded in 1893 as a Christian liberal arts university dedicated to providing students with skills to prepare them for successful careers. The faculty and staff at Concordia have remained focused on that mission by providing both online and on-campus degree programs.
Master of Business Administration
Concordia's online MBA program uses cross-curriculum education activities to help students become experts in their chosen industry. The knowledge and practical experience gained give students the confidence they need to succeed in their professional setting. The program explores business trends and how they affect the current business environment.
MBA in Health Care Management
The online MBA in Health Care Management gives students the knowledge and skills to make an impact in the modern health care industry. Students learn about the intersection of business and health care through coursework that combines traditional MBA topics such as accounting and finance with specialized health care coursework in bioethics, health care informatics, quality practices, and more.
Download this MBA Careers Guide
Recommended Articles
View All