Online Student Experience
One decision changes everything. Discover what online has to offer.
CSP Global is redefining the role of the university through flexible online programs that allow you to go back to school on your terms. Learn from industry-experienced experts, take advantage of valuable career services, and study on your own schedule to earn a private Christian education at a price you can afford. Whether you're looking to advance in your current field, pursue a new career, or get your first degree, the CSP Global tradition of academic excellence sets you up for success.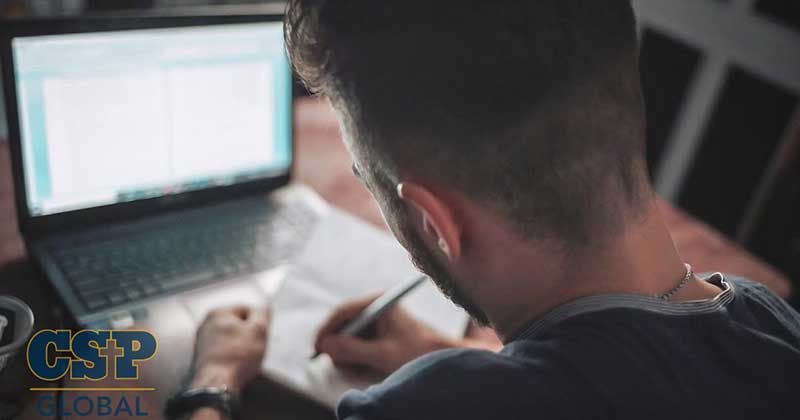 [MUSIC PLAYING]
Katy Jenkins: Working at CSP as an advisor, I feel like the mission is truly to help students succeed.
Rory Paggett: The whole process of enrolling for college can be very stressful, and my job is to take that stress for them.
Justin Suer: So to be able to kind of hold their hand and walk through the process is something that I think adds a lot of value.
Rory Paggett: So I'm keeping track of all the documents. I'm keeping track of all the deadlines and all the due dates.
Katy Jenkins: With advising, the student just needs a mouthpiece. They need someone to talk to.
Justin Suer: So I really enjoy being an advocate for the student, helping them understand that it's a complex process. So I enjoy sharing the burden.
Rory Paggett: That's the most important thing I think about my role is simplifying the process. So all they have to do is know what they want and I'll help them get it.
Katy Jenkins: As an advisor, I think we really have to make sure that we're meeting students where they're at.
Justin Suer: Obviously, most of these students work full-time, some of them work part-time. So kind of helping them balance that home versus work versus parenting. All the things that… the balls that they have to juggle.
Rory Paggett: That personal touch, that contact that we have. We're making impact on people's lives, so we try to keep the person first at every step of the way.
Katy Jenkins: The first thing I would say to a new student is that you're never alone. But when students start, we're proactive. We make sure that we reach out to them to let them know that they can always come to us with the questions.
Rory Paggett: Any way that I can help someone improve themselves, make their prospects and life better, that's worth it for me.
Katy Jenkins: We're very confident in what we do. We're very confident. We have the information. We have the resources.
Rory Paggett: We've got the next steps for you. All you got to do is take them, and I'll be here with you the whole way.
Meet Your Support Team
As an online student at CSP Global, you'll have access to a supportive and energetic team that is dedicated to your success at every step of your education. CSP Global's academic advisors and enrollment counselors have one goal in mind: to help you discover where an online Christian, liberal arts education can take you.
From day one, you'll have someone in your corner. You'll receive regular outreach from an experienced academic advisor who can assist with every aspect of your academic journey.
● Course registration
● Troubleshooting any problems
● Navigating your degree progress
You'll have access to support when you're deciding which online degree program is the best fit for you. Discover which program aligns with your goals and career path.
● Help with the application process
● Support during course enrollment
● Answers to any questions
Student Resources
Enrolling in an online degree program through CSP Global at Concordia University, St. Paul means you're serious about your education, your career, and your future — and so are we. In addition to a support team, you'll have access to career services, tutoring, and much more.
Make the most out of your previous education and seamlessly transfer existing credits.
Free review of your previous credits
Determination of how many credits you can transfer into your desired program
Graduate as quickly as possible
It's always helpful to learn from someone who knows what you're experiencing. Our mentorship program provides an opportunity to speak to successful CSP Global alumni.
1:1 mentoring between students and alumni
Mentor matching based on background and experiences
Access to a specific platform for communicating with your mentor
CSP Global provides ample library resources to its students. Take advantage of this large collection of digital assets to supplement your online college experience.
How-to videos
CSP Global course books
Members in the largest library cooperative in Minnesota
Whether it's a research paper, report, or homework, sometimes it feels like you need some assistance. We offer various services to help you overcome obstacles with your coursework.
Online writing & tutoring resources
24-hour paper feedback
Research assistance
Receive expert assistance to achieve your goals.
Resume and cover letter writing assistance
Mock interviews and 1:1 phone appointments with a career advisor
Get a personalized login to Handshake, CSP Global's job and internship board, to stay on top of ways to enhance your career.
More than 20,000 job and internship opportunities
Available to students and alumni with an online login
Get in front of top alumni employers that are eager to connect with CSP Global's current and former students.
More than 600 students and alumni attended various job fairs throughout the year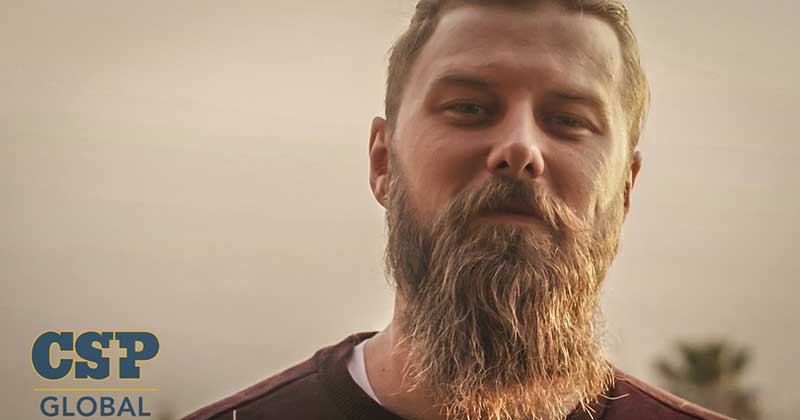 ELIZABETH BYRD: Reaching out, everyone at Concordia has been fabulous. You reach out, they want you to succeed.
TRACI SCHABERT: And I said, well this is what I want. I'm looking to finish my bachelor's degree as quickly as possible. I'm a full time mom, I'm a full time employee, I'm married.
So I need to figure out how to pull this off. And she was calling at night and on weekends, whatever I needed to fit my schedule.
ELIZABETH BYRD: And then just the discussion boards, the projects have all been great, they really get you thinking outside the box. The online experience is really good.
TRACI SCHABERT: They helped me see that Concordia has their online program set up for me. And it was about me.
ELIZABETH BYRD: Do it. If you have anything inside you, anything is pulling you towards getting your education, do it.
"It was very empowering to find Concordia and this online program that said, 'You can do this and it can work in your life.'"

– Elizabeth Byrd, Online BA in Sport Management
Why CSP Global?
Develop in-demand skills professional that can immediately be applied in the workplace.
Learn from supportive, expert faculty members who are dedicated to your education and invested in your success.
Online degree programs at CSP Global are affordable with convenient payment options, scholarship opportunities, military benefits, and more.
Join the expansive CSP Global alumni network and instantly gain invaluable connections around the world.
Transfer previously earned credits so you can earn your degree as quickly and affordably as possible.
Listen to lectures, read texts, and complete coursework on your schedule.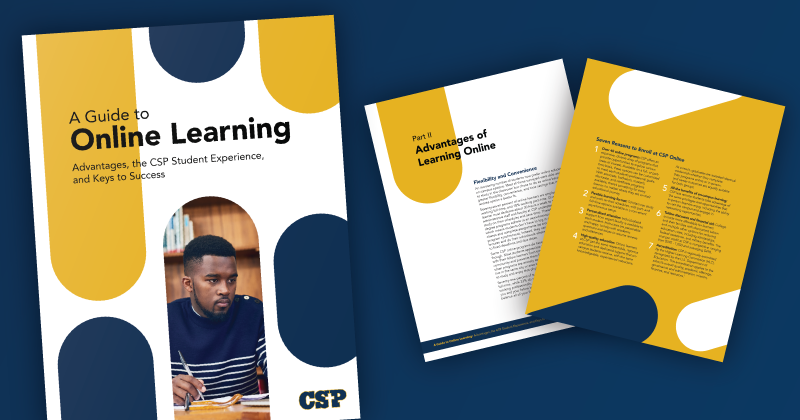 New to Online Learning?
CSP Global is proud to provide students with an exceptional online learning environment based in the Christian, liberal arts tradition. Our Guide to Online Learning is for graduating high school seniors, transfer students, and graduates looking to continue their education. It provides an in-depth look at the experience and benefits of online education at CSP Global so you can learn more about how our programs enable you to achieve your professional and career goals.
View Guide
Technology Requirements
Nothing throws a wrench into the life of an online student quite like tech problems. That's why our IT team is here to help with 24/7 support. We also offer a virtual new student orientation to help you become familiar with our learning management system. From hardware to software and other media, we want to be sure you have the technology and support you need for your CSP Global degree program.