About Concordia University, St. Paul
Online programs from Concordia University, St. Paul are supportive and energetic, allowing you to reach your goals in a flexible digital environment. Our comprehensive programs are focused on providing you with valuable experience and advanced industry knowledge that aligns with Concordia's tradition of academic excellence.
"I wanted a program that was focused on being ethically grounded. It's been a really enlightening experience. The teachers and members of my cohort have been great. We've all sort of helped each other out along the way and it's been very enriching to be able to learn the things I've been learning."

– William Hubbard, online MBA, St. Paul, MN, Head Brewer at Broken Clock Brewing Cooperative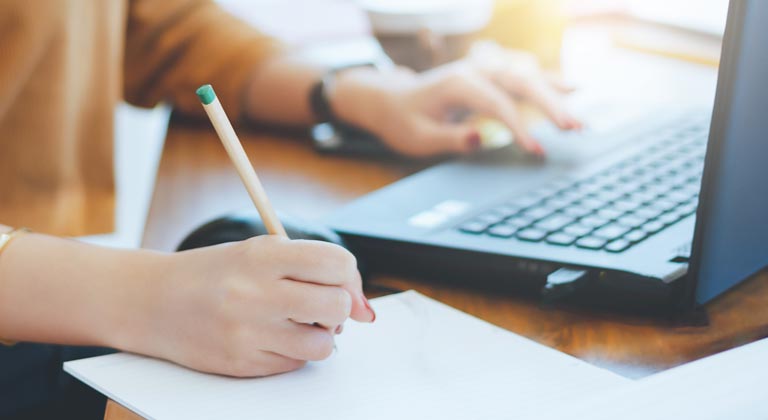 Why Choose Concordia University, St. Paul
Our online community encourages students to explore their interests, engage with professors and peers, and achieve their goals through academic success and growth. You'll receive many benefits from Concordia's online programs:
Career-focused coursework
A dynamic community
An experiential learning environment
Supportive faculty
Affordable, flexible options that fit into your life
Find an Online Program
Discover more about the various online programs available from Concordia University, St. Paul.
View Programs
Support for Online Learning
As an online student at CSP, you'll have access to enrollment counselors, transfer specialists, tuition planners, and academic advisors.
Your Support Team
"[The instructors] have all been nothing but helpful and personable, and I can tell they genuinely want us to succeed. They offer to read resumes, give references and simply offer advice with anything we may have going on in the workplace or at home. They have each helped me succeed by providing me with lots of various knowledge that I know I will use in life and my career."

– Jordan Brenny, online B.A. in Human Resource Management, Wasilla, AK, Surgery Coordinator at Laser Precision Spine Surgery
How Does Online Compare to On-Campus?
Ways to Succeed as an Online Learner
Interact frequently with your community, including faculty and peers, to maintain a network of support.
Set yourself up for success with a space to study and schedule consistent hours to complete your coursework.
Before you begin your program, make a list of contact information for helpful resources: academic advisors, enrollment counselors, Information Technology (IT), etc.
Develop successful online learning strategies. Interact with course content in multiple ways to find what works for you.
Frequently Asked Questions
Yes, because Concordia's flexible online degree programs are designed with busy lifestyles in mind. You can complete course requirements at a time and place that is convenient for you (be sure to note your individual assignment and course deadlines). Learn more about how to manage online coursework here.
Tutorials and instructions are provided through Concordia's online learning management tool. You also have access to support from the Help Desk at https://concordia.csp.edu/helpdesk/. Your instructors can also help with individual questions if issues arise.
Yes, even in an online setting, you will receive the same caliber of education that is consistent with Concordia University, St. Paul's tradition of excellence.
Enrolled students will receive a login ID and password. Upon entering the ID and password in the login window, students will be able to access their online class, view course information, or retrieve their academic records.
An online degree program from Concordia has the same rigor and excellent reputation as an on-campus degree program, only it is delivered in a flexible online format. Learn more about the online experience here.
In addition to networking with your peers and faculty, you will become part of Concordia's network of successful graduates.
View More FAQs