Online B.A. in Digital Marketing Degree
Develop skills in marketing technologies to support business growth
Portfolio Capstone Project
Learn More Today
Complete the form to learn more about this program.
Duration

As few as 2 years

Cost per Credit

$420

Credit Hours

120
Program Benefits
Learn how to measure marketing success
No application fee
Portfolio capstone project to give to future employers
Gain the technical skills to become fluent in digital marketing
Develop a foundation in marketing principles and technical understanding from CSP Global's online digital marketing degree. In the program's project-based curriculum, you'll develop practical skills in areas that include social media and email marketing, search engine optimization, e-commerce, and data analysis. Additionally, you'll learn the best data analysis practices by using tools that include Google Analytics and Facebook Insights.
CSP Global's online digital marketing degree also showcases a partnership with Lower Cost Models for Independent Colleges Consortium (LCMC), which empowers students to learn different marketing strategies and tactics from faculty and peers across the country.
This program features a generous transfer policy, which means you can transfer up to 90 credits.
Interested in the campus version of this program? Click here.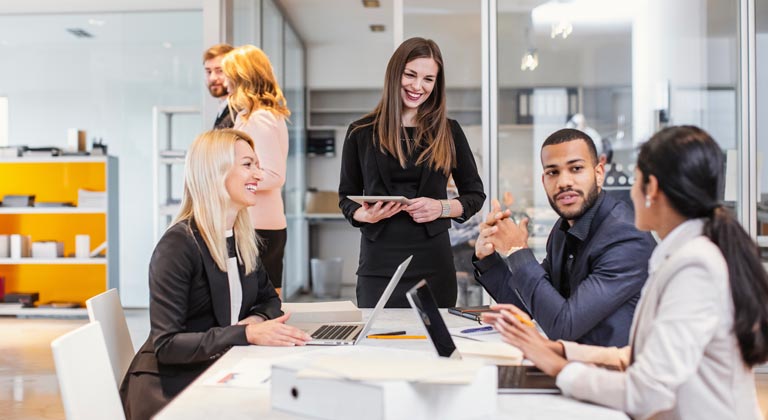 A Project-Based Curriculum to Help You Develop Your Marketing Portfolio
The curriculum in the online digital marketing degree will equip you with real-world technical skills that will give you a competitive edge in the job market. CSP Global's program is conducted in partnership with the Lower Cost Models for Independent Colleges Consortium (LCMC), which means you'll gain the perspectives of professionals with extensive experience from industry-trusted institutions.
Curriculum
Analyze the critical factors driving business.
Skillfully apply knowledge to current marketplace challenges and opportunities.
Demonstrate effective marketing and project management skills.
Admissions Requirements
Concordia University, St. Paul is dedicated to providing accessible, affordable higher education for students of all backgrounds. We offer different scholarship opportunities, require no application fee, and accept up to 90 transfer credits.
Complete online application
Submit official transcripts from your previous regionally accredited institution(s) with a minimum cumulative GPA of 2.0 based on a 4.0 system.
Access to a computer that meets CSP Global's technology requirements.
Students who do not meet initial admissions criteria may be asked to complete the academic success essay and/or provide additional documentation.
Read More About Admissions Requirements
Tuition Details
The world of digital marketing is booming. As more companies turn to the expertise of forward-thinking digital marketers, more businesses will chart clever ways to reach new consumers through web-based advertising. The affordable online digital marketing degree from CSP Global features convenient payment options and $2,000 partnership scholarships.
You'll have support from expert faculty members at CSP Global, who will be there to answer your questions and guide you throughout your online marketing degree program. It's yet another way that the online format mimics the experience of studying on campus.
Online programs from Concordia University, St. Paul are designed for your busy lifestyle. You can study at your convenience while taking advantage of our asynchronous programs, designed for your busy lifestyle. With our flexible cohort framework, you'll get to know your peers and faculty while engaging in unique assignments and activities. Explore the various ways that you will receive support through every stage of the online learning experience and discover tips about how to maximize your resources.
Online Experience
In addition to financing your online education with federal student aid and private loans, CSP offers online students a tuition discount (this limits eligibility for institutional scholarships). Transfer students could receive $2,000 or more through transfer partnerships and transfer student awards. CSP is also a Military Friendly® institution. An enrollment counselor and tuition planner will help you apply for financial aid.
Tuition & Aid
Frequently Asked Questions
Are you interested in one of CSP Global's programs? Get answers to the most frequently asked questions about time to completion, accreditation, tuition and fees, admissions, and more. If applicable, you can also learn more about licensure, concentrations, or specializations offered in the program. Get more information about any online program or contact an enrollment counselor at (855) 641-2525 with further questions.
Marketing has evolved in the 21st century with the rapid expansion of the internet. As a result, more companies are relying on digital marketing efforts to drive growth. Where businesses once depended on advertising in newspapers, print media, and radio spaces, they are now turning to social media, email, and SEO marketing to accomplish their goals. An online digital marketing degree from CSP is the best way to get ahead in the future of advertising.
Yes, you can transfer up to 90 credit hours from a regionally accredited institution toward this degree program. Our Transfer Specialists will guide you through the process.
Applicants must have a 2.0 GPA based on a 4.0 grading scale.
The online digital marketing degree requires 120 credits to complete the program.
Visit our FAQ page