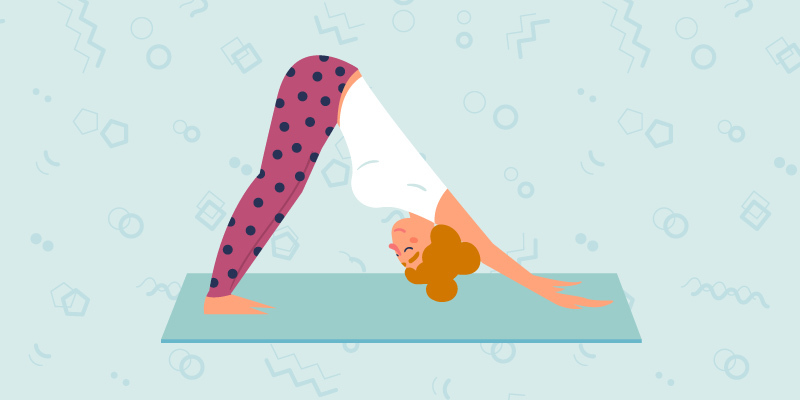 This guest post was written by Lacey Doboszenski, who is an athlete, coach, and teacher in Minnesota. Follow Lacey on her blog or Instagram.
My life has been spent mostly dedicated to movement. I competed gymnastics throughout grade school, high school, and college. I have also coached for 18 years at various levels, including six years as the head coach at North Saint Paul High School. I also am a dedicated runner and have completed 11 half marathons, three full marathons, and one ultra marathon. Throughout all these athletics I have learned a lot about nutrition and the human body. One thing is certain, I wish I knew more about yoga and the science and theory behind it earlier in life. I dabbled in yoga as a young high school gymnast, and I took a couple of classes in college, but I never took it seriously. It wasn't until later in life when I took an in depth 230 hour yoga teacher training that I realized all the ways yoga could have benefited me as an athlete. Now, yoga has been a game-changer for me as a runner – and for my life in general! I love sharing my knowledge of yoga with others, and I currently do so at the Brainerd Family YMCA where I teach both children's and adults yoga to all levels of students. It is so important to not only participate in sports, but to really study them. I encourage all coaches and athletes to familiarize themselves with the benefits of yoga because even adding a little bit to your practice could yield big results.
Below are my top seven ways that yoga can benefit the student athlete.
1. Strength
Let's start with an obvious benefit. Yoga builds strength through poses that use your body as the weight or resistance. It focuses on engaging targeted muscles, so even simple poses can provide great results. Mountain pose is a perfect example of a simple pose providing results. Mountain pose looks like you're just standing there. If done correctly, though, with your muscles engaged and posture in alignment, you'll really feel the burn. When yoga is incorporated as cross-training for a sport, your muscles will be challenged in new ways, like increasing your muscular endurance.
2. Flexibility
When most people think of the benefits of yoga, the first thing they think is flexibility. But this isn't something you need to have before yoga. Anyone can do yoga! Newbies may not be able to get into every pose, but increased flexibility will come with regular practice. Flexibility is beneficial to everyone but especially to athletes. Working it consistently will improve and maintain the range of motion in your muscles, reduce stiffness in your joints, and reduce soreness.
3. You Learn About your Anatomy
The physical part of yoga teaches you a tremendous amount about your anatomy. You learn how to stretch and target specific muscle groups, safe alignment for your joints, and how different muscles work together to achieve certain poses. Real yoga junkies can even learn how different poses help improve your organ function and how to cleanse your body with stretching.
4. Yoga for Injury Prevention
Regularly stretching your muscles before and after practice is important in reducing the risk of injury and knowing proper and effective ways to stretch them is certainly beneficial. It also teaches you to listen to your body and know when to stop, so that you don't hurt yourself. In yoga, you learn to find that comfortable edge, where you are working hard, but you are also being safe and taking care of yourself. It's not just muscles that are strengthened during yoga; joints, especially in your wrists and ankles, become stronger during yoga, too.
5. Using Yoga for Recovery
Since yoga is done with little to no resistance, it can be practiced as vigorously or as gently as you wish – including doing it while sitting in a chair or lying in a bed. Yoga will help you get your body moving in a safe and effective way. Personally, I always use yoga as recovery after long runs when I have very sore shoulders and legs. Even a short 10-minute practice will leave me feeling much better.
6. Benefits of Meditation & Breathwork
As every athlete or coach knows, a huge part of the game is mental, and yoga can help with your mental strength, too. Meditation helps you focus, reduces stress, and stabilizes emotions. It's also known to help as a form of pain management, which can be very beneficial in sports. With most forms of meditation comes breathwork. Working with your breath can greatly benefit athletic performance. Whether you're calming yourself down before a big game or searching for the strength to finish a long run, your breath is one of your most important tools as an athlete. Don't forget to train it.
7. Positive Thinking and Self Care
Yoga is so much more than a physical practice; it's a practice of learning to love yourself and have gratitude for life. Yoga teaches you to take care of your body and live in a positive way. Self-care is not always a priority for many young athletes, but it's something that coaches should stress early on. A healthy body is a happy body, and we want to do everything in our power to teach athletes to play from a place of positivity.
I hope reading this made you more curious about how yoga can benefit you as a student athlete or the student athletes in your life. If you want to learn how to utilize physical activity to get the most out of yourself or your student athletes, you should pursue an online exercise science program. They cover topics in health and wellness education, personal training, and rehabilitation sciences. Concordia, St. Paul's online programs have proven results. Experience why 95 percent of CSP students receive job offers within one year of graduation and why, among Minnesota private school graduates (bachelor's), CSP students have the highest average salary ($57,736). Get started with CSP today.
Recommended Articles
View All