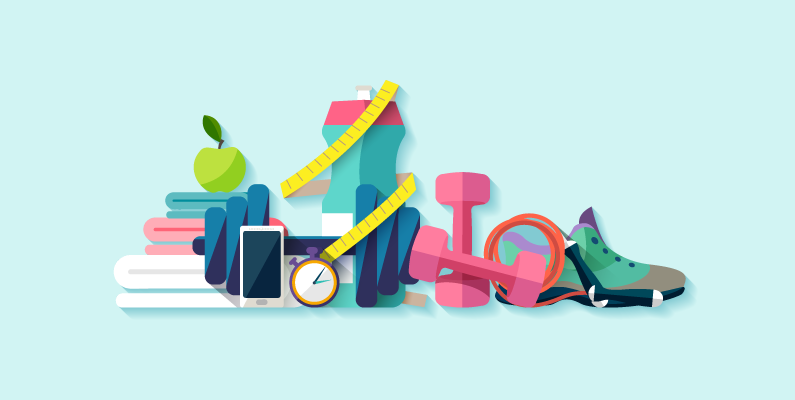 The State of Obesity reported in 2018 that adult obesity rates now exceed 35% in nine states, 30% in 31 states, and 25% in 48 states. The science of weight loss reveals that exercise, along with nutrition and sleep, is vital for losing weight and overall well-being. However, Americans are not getting enough exercise; TIME recently reported that, according to the new NCHS report which drew on five years of data from the National Health Interview Survey, only about 23% of adults ages 18 to 64 are both getting enough exercise and completing muscle-strengthening activities weekly. Another 32% completed one but not both, and almost 45% did not hit either benchmark. A 2018 article from The Guardian reported that, of 4,520 children studied, "half the kids were getting enough sleep, 37% remained within the screen time limits, and only 18% met the physical activity recommendation."
There are many benefits of physical activity. By applying some fun social activities into one's daily life, people can apply the science of exercise and reap the rewards of a healthier lifestyle.
Health-Related Benefits in the Science of Exercise
Physical activity is one of the most important things that people can do for their health, according to the Centers for Disease Control and Prevention. Their findings provide more detail on the benefits of physical activity:
Helps control weight: For weight management, people vary in how much physical exercise they need. A good standard for many people is about 150 minutes of moderate-intensity activity a week. More is needed to lose weight and keep it off.
Reduces the risk of cardiovascular disease: Meeting the 150-minute standard of activity reduces the risk of heart disease and stroke, the two leading causes of death in the United States. Exercise can also reduce blood pressure and improve cholesterol levels.
Lessen the risk of type 2 diabetes and metabolic syndrome: The risk of type 2 diabetes and metabolic syndrome is reduced with physical activity.
Cut down the risk of some cancers: Research shows that physically active people have a lower risk of colon cancer, and in women, breast cancer. Some research indicates the same for endometrial and lung cancer.
Strengthens bones and muscles: Exercise can slow the loss of bone density that comes with age. It also helps with arthritis.
Improves mental health and mood: Physical activity keeps thinking, learning, and judgment skills sharp as people age. It also reduces the risk of depression and helps improve sleep quality.
Enhances ability to perform daily activities and prevent falls: Physical activity helps people, especially middle-aged and older adults, do everyday tasks like climbing stairs, grocery shopping or playing with children.
Increases Chances of Living Longer: Exercise and physical activity reduces the risk of dying at a young age from the leading causes of death. It doesn't require high amount of activity or exercise.
Exercise Guidelines
The President's Council on Sports, Fitness & Nutrition (PCSFN) recommends that children and adolescents get 60 minutes or more of physical activity each day. They should have vigorous-intensity physical activity at least three days a week and they should include muscle- and bone-strengthening activities at least three days a week. Adults should get at least 150 minutes of moderate-intensity aerobic physical activity each week, of at least ten minutes at a time. Strengthening activities, such as push-ups, sit-ups, and lifting weights should be performed at least two days a week. Three types of exercise to include are:
Aerobic: Moderate exercise includes casual biking, brisk walking, water aerobics, and ballroom dancing. Vigorous activities include running, swimming laps, basketball, and jumping rope.
Muscle-strengthening: Activities include lifting weights, push-ups, sit-ups, and working with resistance bands.
Bone-strengthening: Activities include tennis, running, jumping rope, and basketball.
Expand Your Knowledge of Wellness and Exercise Science
Develop a greater understanding of kinesiology, exercise physiology, movement science, fitness, and wellness with Concordia St. Paul's online Bachelor of Arts in Exercise Science. Enjoy small class sizes with a personal learning environment geared toward your success, and learn from knowledgeable faculty who have industry experience.
Recommended Articles
View All