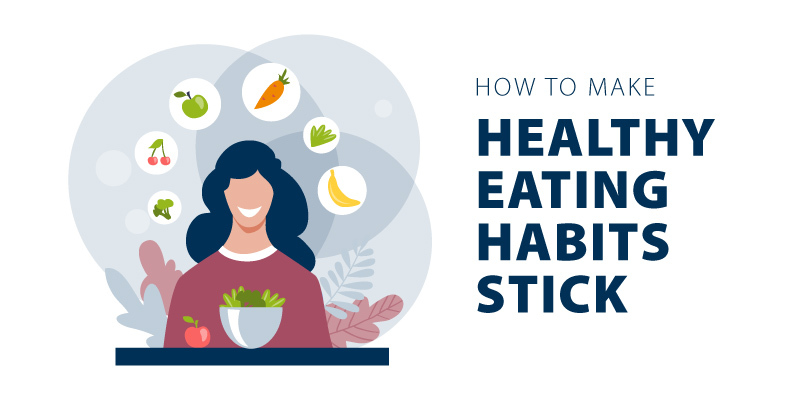 This blog post was written by guest contributor Krista Happ of Happy Healthy Casa.
We all want to be healthy, and we know that what we put into our bodies has a direct impact on our health. But why, then, is making healthy choices day-to-day so hard for so many of us? In a day and age where there are convenience foods and sugary snacks lurking in every corner, it can be hard to make healthy choices. Couple that with sneaky marketing tactics and even sneakier ingredients, and well, it becomes easy to see why so many of us "fall off the wagon."
But take it from a girl who indulged in all the things for so long with little consideration for the impact they were having on her body: You can make a change and you can stick with it — no matter where you are starting from. Today, I am sharing three practical ways to help make healthy eating habits stick for good!
What Doesn't Work
Before we chat about how to make your desired habits stick, let's take a moment to highlight what doesn't work (at least for most):
Dieting
Depriving yourself.
Trying to change too much at once.
Going at it alone.
Making uninformed choices based on what others deem to be "healthy."
Lacking an understanding of your body's unique needs.
Making healthy eating habits stick is about fostering a lifestyle conducive to doing so. Depriving yourself, overwhelming yourself, taking it on by yourself, or lacking an understanding of yourself can all contribute to this lifestyle feeling unattainable. These things can often perpetuate that food rollercoaster too many of us find ourselves on. That said, a healthy relationship with food is not only possible, but also sustainable. It just comes down to setting yourself up for success.
How to Make Healthy Eating Habits Stick
Take incremental steps and build upon them.
Many people don't succeed at making their healthy habits stick because they try to change too much at once. While this may work (and may even be necessary) for some, the majority of us work better when we ease into new habits. Thus, instead of tossing out every item in your pantry, start thinking about how you could begin buying healthier replacements once items have been used. Or instead of vowing to eat salad for every meal here on out, think about how you could start adding a few greens to those meals you already make.
It doesn't have to be a sprint.
Remember, it's a lifestyle. And it's okay to put in the time for it to stand the test of time. If you have a goal you are hoping to achieve through your healthier habits, setting "micro goals" can be beneficial in making the journey more manageable. Micro goals are incremental milestones that lead to your larger goal. Not only do they help you make a plan for success, but they also give you opportunities to celebrate small wins along the way. If your goal is to cut out all refined sugars from your diet, then maybe you start with a micro goal of cutting out soda for a week. Once you have accomplished that, celebrate and then plot your next step as you continue to work toward your end goal.
Involve the whole family.
If you eat one way and the rest of the family eats another, it's often a recipe for failure. You may feel left out when everyone else's plate looks different from yours. You may feel overwhelmed if you are the one making all of the meals. And you may feel tempted if you are keeping food in your home that doesn't align with your goals. Bottom line, healthy eating should be a family affair. And if it is something you feel that strongly about for yourself, you should want your family to be a part of it as well.
Find an accountability partner.
Establishing and maintaining healthy eating habits is a lifestyle that not only benefits your family now, but also sets up each member for making informed choices on their own in the future. Live on your own or with a friend? Find yourself an accountability partner. Whether it is your roommate or someone you can simply check in with on the daily, having that support system makes a difference. Feel free to even use social media to your advantage. Start a Facebook group or an Instagram page as a space to share your journey with a community.
Listen to your body.
When it comes to wisdom, it is important to know the facts. But it is important to know your body as well. Each one of our bodies is so incredibly unique. And what "works" or what "feels good" for one person, may be different from the next. As you work to make healthier habits a lifestyle, listen to your body. How do you feel after eating a certain food? After consuming a certain amount? Make note of this. Track these cues your body is giving you over time. You will be amazed by how much your body wants to teach you. And after learning to listen to it, you won't be able to ignore it any longer.
Seek to continue growing and learning.
Knowledge is power. Learning about nutrition will inspire you not only to eat better now, but also empower you to stick with it. While there is so much information out there about what is considered healthy, it is important to seek out wisdom from reliable sources. Speak with or read blogs by professionals on the topic or, better yet, dive in head first and take a course like Applied Nutrition offered as part of Concordia University, St. Paul's online bachelor's in exercise science degree. A course such as this can help you build an understanding of basic nutritional concepts and needs and help you feel more confident in the decisions you are making for yourself and your family.
Are you ready to finally make healthy eating habits stick for good? Take incremental steps, build a support system, and seek to learn about and listen to your body. And I promise that desire to "get there" will turn into a desire to "stay."
Krista is an early childhood educator and nutrition blogger living in Minnesota. You can follower her on her blog or on Instagram @happyhealthycasa.
Recommended Articles
View All