When you think about buying something online, how do you decide whether to follow through with your purchase? If you're like most shoppers, you might turn to on online reviews for guidance.
According to research from Nielsen, 73% of online respondents use reviews to make purchase decisions. "Perhaps nothing is more important than word-of-mouth testimonials from satisfied customers, whether in person or online via reviews and social media," added Patrick Dodd, chief commercial offer at Nielsen.
If online reviews aren't available, 92% of customers are impacted, according to a survey from marketing agency Fan & Fuel. That group expressed a lot of hesitation in what would happen next; Thirty-five percent said they were less likely to buy, 32% said they'd wait until they could do more research, 23% said their buying decision would be difficult, and 2% said that they simply wouldn't buy the product/service.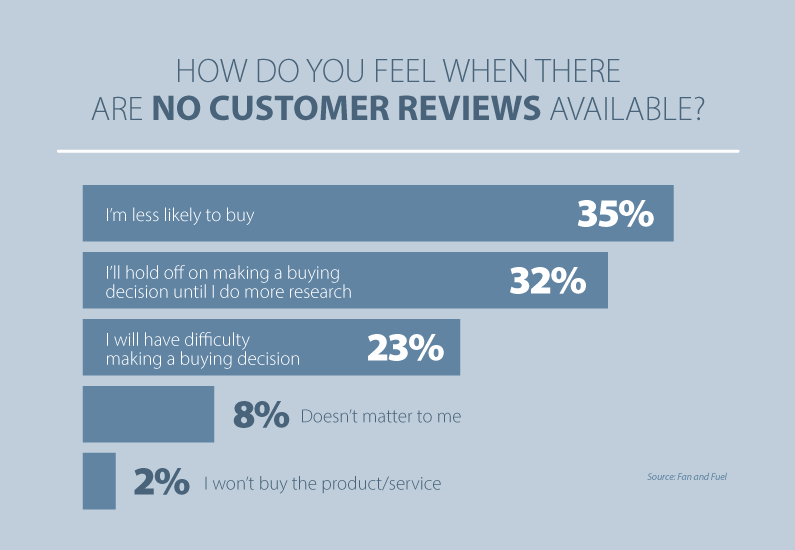 E-commerce businesses need to understand how crucial online reviews are for sales. The following sections expand on how online reviews affect business directly and how to get customers to leave reviews.
Benefits of Online Reviews for E-commerce
It may seem natural that online reviews affect business and lead to more sales, but it's worth exploring some of the primary and supplementary reasons. You'll start to realize why reviews play such a crucial role in the e-commerce world.
Unbiased Insight into Products: People want to know if products they're considering fit their needs. In the Fan & Fuel survey, 37% of respondents said the main thing they look for in online reviews are details that help them understand if the product/service is right for them. That led all other reasons for reading reviews. There's a certain level of trustworthiness for online reviews. In fact, based on a survey of U.S. mom internet users, people trust consumer reviews nearly 12 times more than descriptions provided by manufacturers.
Build Trust: Another benefit to reviews is they can help portray the business in a positive light. People are accustomed to purchasing products from familiar sellers like Amazon. If they're on a different site, they may be unsure. "Will the product arrive quickly?" "What if I need to return it?" In unfamiliar territory, consumers need to know that other shoppers have had positive experiences. As a result, they'll read product reviews and online business reviews to make sure everything seems right. Online reviews form an important trust factor for customers.
Increase Traffic Through Search Engine Optimization (SEO): If you own an e-commerce store or work for a company that sells products and services online, you need to focus on SEO. It increases traffic to the store by improving the visibility of it on search engines like Google. Compete for search keywords that are relevant to your store, and you'll draw more traffic and sales to the business. How do online reviews relate to SEO? In his guide to SEO for e-commerce websites, expert marketer Neil Patel noted how customer reviews "positively impact your SEO because more reviews = more content, and frequent reviews = fresh content, which Google loves to see."
How to Encourage Customers to Leave Reviews
Understanding just how much online reviews affect business is the easy part. Here are some tips and tricks on how to get customers to leave reviews.
Use Email: Maybe you've received an email after purchasing something online, asking you if they can help you with anything. Those types of messages are the perfect opportunity to ask for a review. It's timely, relevant, and gives you a way to offer customer support if needed. If not, customers might take a few minutes to respond to an appeal for a review. You can automate these emails and combine them with the next idea for getting customer reviews.
Integrate Promotions: Offering a discount on a customer's next purchase for leaving a review is an effective incentive. You can also consider giving access to a sneak peak of an upcoming product. Whatever the case is, try rewarding your loyal customers with something for writing a review. Some e-commerce platforms can create coupon codes when a review is completed. Otherwise, you can manually do it by having customers email you when they're finished. Or simply put the coupon code in the email and go by the "honor system," trusting they'll leave a review if they use the promotional code.
Make Everything Accessible: Test what people have to do to leave a review. An easy way to do it is by limiting it to registered users. Beware of making more than one or two fields required to submit the review.
Ask for Review and Respond to Them on Social Media: Your audience might not be used to seeing a message on Facebook or Twitter about how they can get a discount for leaving a review. Mix things up a little bit. Use social media in addition to email to get reviews. You should also respond to reviews about your company. For instance, on Facebook, expressing appreciation or addressing issues on online business reviews can demonstrate how your company does customer service. Show your brand's personality in how you thank customers and try to resolve negative experiences.
Reviews are just part of the equation for running a successful e-commerce business. For instance, there are other strategies you can implement to help persuade customers begin a shopping cart to complete their order. By curbing shopping cart abandonment, you'll help your business or employer drastically increase sales.
Learn the skills to lead your business or help other companies navigate e-commerce with an online business degree or an online marketing degree. In a fully online format, you'll gain the knowledge and skills needed to thrive in the business world.
Both of these programs from Concordia University, St. Paul feature small class sizes with a personal learning environment geared toward your success. Learn from knowledgeable faculty who have industry experience. Get started with CSP today.
Recommended Articles
View All