B.A. in Business Administration
Position yourself for Fortune 500 success with an online business bachelor's
Quality education at an affordable price
CSP Global Grads Earn More1
Learn More Today
Complete the form to learn more about this program.
Duration

As few as 2 years

Cost per Credit

$420

Credit Hours

120
Program Benefits
94.5% of students are employed a year after graduation
A top affordable college in the Twin Cities
Now accepting applications – no app fee
Free transfer credit evaluation (may lower program duration)
Expert career advice to help you with your job search
An affordable bachelor of arts in business administration with a liberal arts focus
Your interest will grow as you delve into case studies to learn about management, teamwork, communication and other essential business topics. You'll study international perspectives, environmental sustainability, and ethics, among other courses.
Learn from expert faculty who'll support you along your educational journey, help you learn to make big business decisions and develop solutions to problems in the business world.
CSP Global's B.A. in Business Administration is not only geared to make you a successful business leader, it's designed to support you as a student, with mentorship from alumni – through our Mentor Collective program – who provide networking opportunities.
Interested in the Campus version of this program? Click here.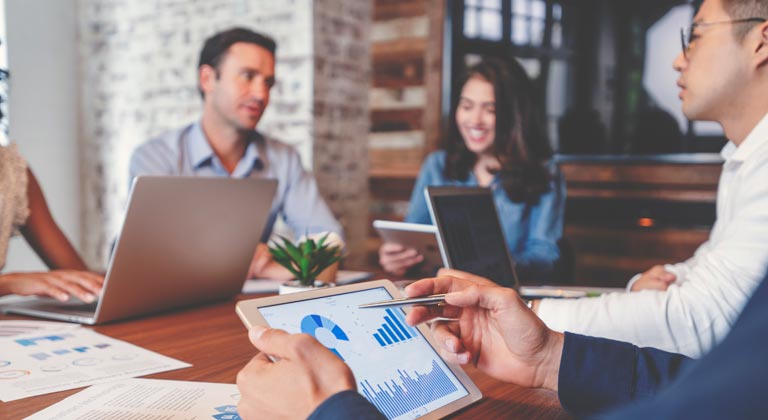 Curriculum
The business administration degree online program provides a liberal arts perspective through the General Education core, plus 39 credit hours in the business degree program. You'll examine concepts in organizational behavior, entrepreneurship, legal aspects of business, business analytics, and more.
View Courses
Develop effective solutions in business situations.
Exhibit effective decision-making and problem solving skills.
Analyze business data to achieve an organization's strategic goals.
Demonstrate strong marketing, finance, accounting, and entrepreneurial skills.
Admissions Requirements
To apply for the online B.A. in Business Administration from Concordia University, St. Paul, you'll need:
Completed online application
Submit official transcripts from your previous regionally accredited institution(s) with a minimum cumulative GPA of 2.0 based on a 4.0 system.

If you have attended a MNSCU college or university we also ask that you provide an official accompanying DARS or MnTC goal area worksheet. CSP Global accepts completed goal areas.
Transfer students with fewer than 20 college credits completed will also need to submit an official high school transcript and essay.

Additional Requirements

Access to a computer that meets CSP Global's technology requirements.
Students who do not meet initial admissions criteria may be asked to complete the academic success essay and/or provide additional documentation.
Read More About Admissions Requirements
Tuition Details
The online business administration degree from CSP Global costs $420 per credit hour. You can transfer a maximum 90 credit hours to get your total tuition cost down to $12,600. Convenient payment options and $2,000 partnership scholarships are also available to make your education even more affordable.
You'll have support from expert faculty members at CSP Global, who will be there to answer your questions and guide you throughout your business administration bachelor's degree program. It's yet another way that the online format mimics the experience of studying at campus.
Online programs from Concordia University, St. Paul are designed for your busy lifestyle. You can study at your convenience while taking advantage of our asynchronous programs, designed for your busy lifestyle. With our flexible cohort framework, you'll get to know your peers and faculty while engaging in unique assignments and activities. Explore the various ways that you will receive support through every stage of the online learning experience and discover tips about how to maximize your resources.
Online Experience
In addition to financing your online education with federal student aid and private loans, CSP offers online students a tuition discount (this limits eligibility for institutional scholarships). Transfer students could receive $2,000 or more through transfer partnerships and transfer student awards. CSP is also a Military Friendly® institution. An enrollment counselor and tuition planner will help you apply for financial aid.
Tuition & Aid
Frequently Asked Questions
Are you interested in one of CSP Global's programs? Get answers to the most frequently asked questions about time to completion, accreditation, tuition and fees, admissions, and more. If applicable, you can also learn more about licensure, concentrations, or specializations offered in the program. Get more information about any online program or contact an enrollment counselor at (855) 641-2525 with further questions.
Yes, you can transfer up to 90 credit hours from a regionally accredited institution toward this degree program. Our Transfer Specialists will guide you through the process.
The B.A. in Business includes 40 credit hours plus general education requirements.
This program is offered either fully on campus or fully online at CSP Global.
Online undergraduate programs from CSP Global are $420 per credit hour.
Without transfer credits, completing 120 credit hours at $420 per credit hour totals $50,400. However, with the maximum amount of transfer credits (90), your total tuition could be as low as $12,600 before scholarships and financial aid.
Excluding general education requirements, the B.A. in Business has 10 courses.
Visit our FAQ page
Sources
According to CollegeScorecard.ed.gov, CSP Global graduates earn 44% more than the national average.