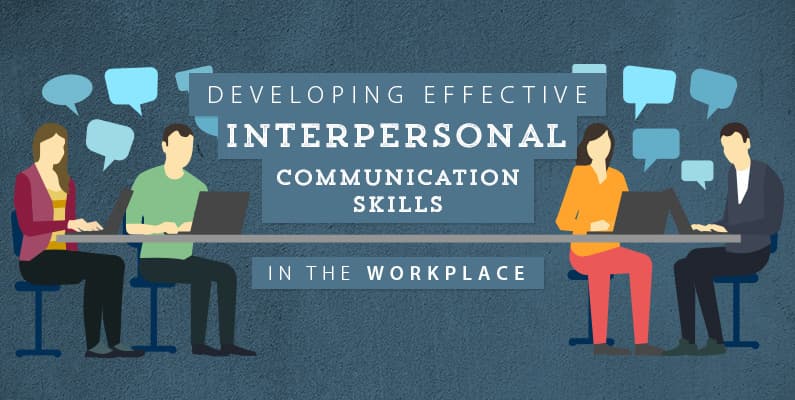 Interpersonal communication is a soft skill that encompasses how well an individual communicates with others. This skill set, also referred to as "people skills" or "social skills," is one of the most important for success in the workplace. Communication can take place both verbally and nonverbally, either in person or through digital means such as email or instant messaging. In communication theory, there are six key components of interpersonal communication:
The communicators: This refers to both the sender of the communication and the receiver. There are at least two communicators involved in all interpersonal communication.
The message: One of the most important parts of interpersonal communication is the message. It can be conveyed in many ways: speech, body language, tone of voice, gestures and other indicators. Non-verbal messages provide additional information that may not be readily apparent through words.
Noise: This refers to any distortion that causes differences between what is received and what it sent, according to resource website CommunicationTheory.org. Examples of noise include jargon, language barriers, inattention and more.
Feedback: Feedback is the response of the receiver. In other words, it's the message sent back to the sender. This allows the sender to know whether the message has been received and interpreted correctly.
Context: Whether a message is received and interpreted correctly depends largely on context. "The emotional climate and expectations of the people, the place of occurrence, and social, political, cultural and environmental conditions comprise context," CommunicationTheory.org says.
Channel: Finally, this component refers to how the communication occurs. A message is sent and received through a specific channel, or medium.
Interpersonal Communication in the Workplace
Interpersonal communication is one of the most important life skills business professionals can have. In companies and organizations of all types, effective communication determines whether a team can operate effectively and accomplish core business goals. "It underlies the efficiency of key business functions such as managing, training, selling and resolving conflicts within an organization," Chron Small Business explains.
Elements of Interpersonal Communication
Interpersonal communication can also be divided into subskills. Effective communication in the workplace relies on each of the following elements:
Problem solving and decision making: One of the best ways to maintain professional relationships is through effective problem solving and decision making. Both of these skills align team members toward a common goal. If leaders are unable to take the steps necessary to solve problems and make the right decision for the team, a business can't function successfully.
Listening: Strong listening skills are invaluable for business professionals. They help individuals understand sent messages and act accordingly. If a manager provides instructions but team members are unable to listen and synthesize the information, roadblocks will arise that can derail projects and cause negative consequences.
Assertiveness: A commonly undervalued element of interpersonal communication is assertiveness. The ability to influence others helps leaders drive the team toward a common goal. Being willing to take charge and effect change is one of the hallmarks of a business leader.
Negotiation: This skill is a key element in conflict resolution. Finding common ground and identifying shared goals can help business professionals work effectively with others.
How to Improve Interpersonal Communication in the Workplace
Here are some of the ways business professionals can improve interpersonal communication in the workplace.
Research and plan: Gather facts and relevant data to plan for important conversations. This helps ensure clarity and accuracy.
Determine your audience: Consider coworkers' personality and mindset before approaching a conversation. Find the right communication style for your specific situation. Some conversations lend themselves to face-to-face meetings, while others can be best accomplished through email.
Self-evaluation: Understand your own strengths and weaknesses when it comes to communication. Ask for honest feedback from coworkers and managers as a learning opportunity to better inform future interactions.
Monitor expectations: Keep assumptions and expectations to a minimum before engaging with a coworker. You never know for sure how someone will react, so be ready to adapt as the situation demands.
Skill Development Through Graduate Coursework
Earning a Master of Business Administration (MBA) is an ideal way to develop stronger interpersonal communication skills. Concordia University, St. Paul's fully online MBA balances advanced business coursework with hands-on projects that help students develop real-world skills for the workplace. On campus program options are also available.
If you are interested in advanced business topics like these, consider Concordia University, St. Paul's online MBA program. You can also download our free guide, "Climbing the Corporate Ladder: Your Guide to the MBA and Beyond," for an in-depth look at the value of the MBA.
Recommended Articles
View All