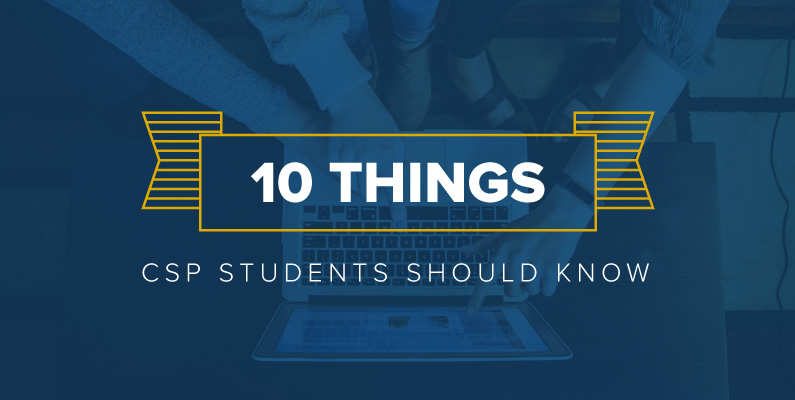 As an online student at Concordia University, St. Paul, you have several tools and perks available to you. Here's what you should know before you start your first day of classes:
1. Get Acquainted with CSP Connect
Take a moment to bookmark CSP Connect on your browser. CSP Connect allows you to access a variety of student resources that you'll be using throughout your time with CSP: Blackboard, online library and tutoring services, email, financial aid, and course registration.
2. Access Your Courses with Blackboard
Blackboard is your portal to classes. You can access it directly or through CSP Connect by clicking the chalkboard icon. Typically, during the week before classes begin, your assignments, syllabi, and discussion boards will be posted here. You will need to know how to log into Blackboard before the start of classes.
3. Find Sources and Get Expert Help at the Library
Our library allows you to find the sources you need for assignments online. You can search for what you need or browse guides, databases, and journals. Need help finding the right peer-reviewed study or literature review for a paper? You can speak directly with a CSP librarian by using the chat feature. If no one is available, you can send an email to reference@csp.edu.
4. Utilize Free Tutoring Services
The Writing Center at CSP offers online and email sessions for assignment help, specific questions, and general writing skills. You can seek tutoring here at any stage of the writing process, from brainstorming and outlining to revising, editing, or polishing a nearly finished draft. You'll also have free access to tutoring services at Brainfuse. Brainfuse allows you to receive live, on-demand help from certified tutors in a variety of subjects.
5. Get the Textbooks You Need
The online bookstore allows you to access course materials, see what textbooks are required for your classes, and compare prices. Aside from textbooks, you can purchase apparel, gifts, and much more.
You can access the bookstore at csp.bncollege.com.
Click on the "Textbooks" drop-down and select "Find Textbooks."
You can find course materials by selecting Term, Department, Course, and Section.

Select the correct department. For example, history would be HIS.
Next, choose the course and section that you have enrolled in. Please refer to your registration information if you are unsure.

Finally, choose the yellow button at the bottom for "Find Materials." This will bring you to the page where you can see what books are required for your class. You can select the format you would like to receive your textbooks, including rent and buy.
6. Enjoy Free Perks
As a CSP student, you receive plenty of benefits if you live near or are visiting the St. Paul, Minneapolis area. You can obtain a free campus parking permit, free admission with your CSP ID to most home athletic games for the Concordia Golden Bears, and free tickets with your CSP ID to most fine and performing arts events.
7. Join a Club or Organization
As an online student, you can still get involved in a club or organization. You can explore your passions, meet new friends, and build your leadership and professional skills. If a specific club or organization doesn't already exist, Student Senate offers the opportunity for any student to propose and have funded new clubs and organizations.
Currently, there are dozens of clubs and organizations available to all CSP students.
Cultural clubs like Global Student Club and Saudi Club
Academic clubs like Business Club, Psychology Club, and American Institute of Graphic Arts (AIGA) Association Student Group for Design
Service organizations like Concordia's Sisterhood of Empowerment (CSE)
Sports and health organizations like Fellowship of Christian Athletes (FCA) and Zumba Club
University organizations like Student Alumni Council (SAC), Student Athletic Advisory Committee (SAAC), and Student Senate
8. Take Advantage of Career Development Services
CSP's Office of Career Development has career advisors who can work with you on career exploration, graduate school prep, internship assistance, interview and job fair prep, job search strategies, LinkedIn/social media, major exploration, networking, resume/cover letter/CV, and self-assessment.
Appointments are available in-person or over the phone Monday through Friday, from 8:00 a.m to 4:30 p.m. Central Time.
9. Get Advice from the Blog
Our blog includes several resources for current and potential college students. Posts span basic advice for studying and earning your degree. You'll also find program-specific information that can help you understand certain topics within business, education, technology, and other subjects. There are plenty of fun, informational pieces that you can enjoy and share with friends and family.
Here are some examples that you can check out:
10. Get to Know Your Academic Advisor
One of the most helpful resources at Concordia St. Paul is your academic advisor. Some students say that the support and assistance they receive from academic advisors help made completing their degree possible.
You will be paired with an academic advisor who will help you with degree planning and getting you registered for the courses you need, but that's just the beginning. Your academic advisor is there for you with anything else you may need. Need help with time management and study techniques? Need school resources to help you with classes? Or are you just looking for someone to talk to? Your academic advisor is there to help, or they can find someone else to assist you.
Learn More About What CSP Offers
Along with these resources, Concordia St. Paul strives to provide its online students with an excellent education. We give you the tools you need to succeed throughout your online program. You can learn more by visiting our Online Experience page.
Recommended Articles
View All