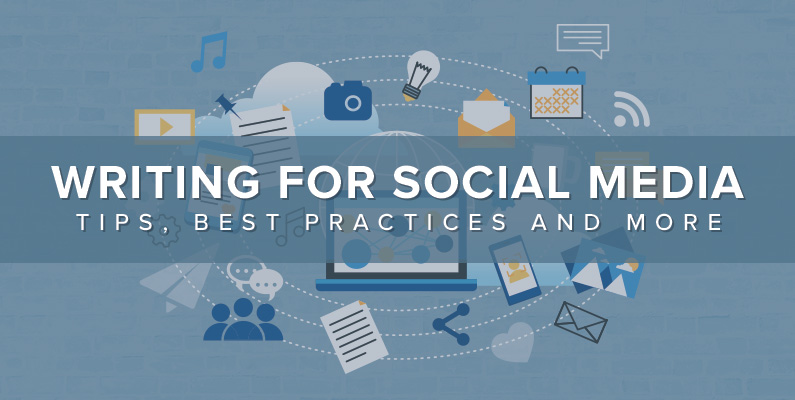 In the constantly changing world of digital marketing, it can be difficult to keep pace with the latest best practices and techniques, especially when it comes to social media. Trends emerge and disappear quickly, and it is challenging to keep readers engaged in content. Now more than ever, writing for social media is a vital part of a successful marketing strategy.
Though not all marketers feel confident in their written communication skills, crafting meaningful, effective content is possible with a strong set of guidelines. These techniques will help ensure maximum social media engagement, regardless of channel. While there are various limitations and best practices unique to each social media platform, certain general strategies apply to all channels when writing for social media.
Why Social Media Writing Matters
In short, everything your business posts on social media becomes part of your brand. Because of this, badly written or non-optimized content reflects poorly on your business as a whole. Having a solid social media presence is key for marketing success. For these reasons and more, writing effectively for social media should be the goal of every marketing team.
Writing for Social Media
The following are some basic ways to improve your team's social media writing and create a more effective strategy moving forward.
Create and Apply Brand Standards
One of the most important first steps in writing for social media is creating brand standards and applying them to the content you create. A social media checklist like the one Buffer put together can be helpful as well. To ensure that your social media presence is consistent with your brand's image as a whole, develop a simple style guide (a manual or template to ensure that multiple communications consistently enact the brand's characteristics). According to CoSchedule, it should include key elements such as:
Mission statement: This should outline what you hope to accomplish through your social media strategy. Why is social media part of your overall marketing plan?
Audience: Pinpoint who your core audience members are and what they are looking for from social media content. Answer the question, "Who are you writing for?"
Brand voice: Describe your social media voice. Will your posts be casual? Professional?
Tone: This will help you determine what types of content to post. Do you aim to be helpful, authoritative, humorous?
Branding: Determine any important brand elements, such as spellings, abbreviations, proprietary information, and more.
Message: Put together guidelines concerning which types of messaging you will post on specific platforms such as Twitter, LinkedIn, and Facebook.
Maintain Consistency Between Posts and Web Content
An often-overlooked element in writing for social media is maintaining consistency across content. Your social media posts and destination pages should follow the same branding. CoSchedule says, "If your post is linking to an external page, then your post messaging needs to match your landing page messaging. In short, your social media content needs to follow through on the promises your posts make."
Create Shareable Posts
The best writing in the world is irrelevant if what you post is not shareable. Social Media Today states that "Even if your content is amazing, if you do not make the posts easy to read, clean, and organized, you will lose out on many potential social shares." The article suggests writing short, inviting content, using a variety of formatting, and incorporating visuals where appropriate. Arguably the most important way to increase shareability is being mobile friendly. Your content has to be easily viewed and shared on either mobile or web. In addition, write headlines that grab users' attention so that they want to pass along what they read to others, but be careful not to generate clickbait, which could ruin trust and credibility with your audience.
Another way to make your content shareable is to utilize "share" button options and links. Most social media platforms have share buttons built in, but this tactic is particularly crucial for longer content that you hope will be shared on social media. At the bottom of all your blog posts and webpages, include buttons to easily share the content on various social media platforms.
Adding hashtags and images is helpful as well. Images are the "No. 1 most important factor in optimal social media content," according to Buffer, and hashtags can help make your content visible and searchable for both your followers and other social media users.
Put the Audience First
Finally, make sure you understand your target audience members. What terminology do they use? Are you speaking their language? If you struggle with questions like these, it is helpful to create a survey so that you have a clear idea of who you are writing for. CoSchedule suggests putting together a social media persona, which involves "creating a character description of your average target audience member."
Once you understand your typical audience, you can identify what types of content work best. For example, does your audience respond well to humorous videos, or are they more interested in links to longer blog posts and polls? The more detailed your social media persona is, the more likely it is that you will be able to craft optimized content.
Getting Started
Modern social media strategy is complex, but it boils down to a simple formula: understand your audience members, and write for them. If you can apply best practices like the ones covered here to your social media writing, you can craft meaningful content that connects with your audience.
Creating optimized social media content is one of the foundations of modern marketing strategy. If you are interested in topics like these that are relevant to the marketing industry, consider Concordia University, St. Paul's online marketing degree program.
Recommended Articles
View All