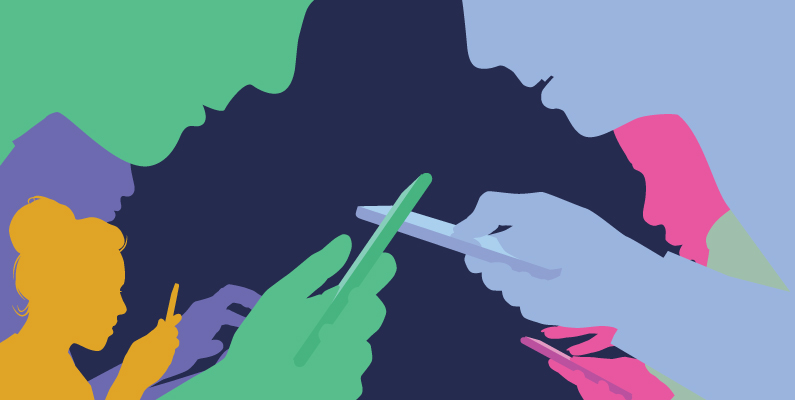 The term "nomophobia"—no mo (no mobile) phobia (fear)—was coined during a 2010 study commissioned by the UK Post Office, according to Psychology Today. The UK study found that 53 percent of mobile phone users in Britain tend to be anxious when they have lost their mobile phone, have no network coverage, or their phone is out of battery. Nine percent felt stressed when their cell phone was off. This is also a growing problem in the United States. For the average case of nomophobia, the stress involved was on par with those associated with "wedding day jitters" and trips to the dentist.
Characterizing Nomophobia
An article in Scientific American depicted the instinctual reaction that can take place when someone realizes that his or her phone is not where it's supposed to be:
"My dependence on devices reached an embarrassing low recently. As I hurried to leave for work one morning, I patted my back pocket and realized I did not have my phone. Seconds later, in a fully automatic behavioral response, I patted my back pocket again, this time reaching for my phone in order to help find my phone. Shame washed over me as I realized the thought process I had just gone through: 'I do not know where my phone is! I will just get my phone to help me find it.'"
The incident sheds light on two important aspects of nomophobia:
The anxiety and distress that some people experience when not having their phone
The degree to which people depend on phones to complete basic tasks and fulfill important needs like learning, safety, and staying connected
Researchers found these qualities when conducting a 2017 study that was published in Cyberpsychology, Behavior, and Social Networking journal. Most students surveyed admitted that their phones were almost an extension of themselves, and that they get attached to them because their phones store and share many details of their lives. Because of the dependency on their devices, users wanted their phones nearby at all times.
Consequences of Nomophobia
Students in the Cyberpsychology, Behavior, and Social Networking study not only displayed anxiety symptoms and attachment tendencies, but they had phone-induced wrist and neck pain, trouble focusing on work or studying, and they often let their devices distract them. Research published in a 2016 Computers and Behavior journal article shows that phone separation can lead to an increase in heart rate and blood pressure.
According to Scientific American, the dependence in nomophobia has important psychological consequences; as the article reported, "research on transactive memory finds that when we have reliable external sources of information about particular topics at our disposal, then this reduces our motivation and ability to acquire and retain knowledge about that particular topic."
Spouses who rely on each other for information is an example of reduced motivation to retain knowledge. When you take away that access, problems occur. It can be as simple as being unable to log into a bank account or not knowing where the cereal goes. "Now we have a source of near omniscience in our pockets," Scientific American continued, "Why bother remembering anything when you can always just ask Siri?"
Due to information acquisition and retention, the brain tends to treat devices like relationship partners. As a result, this can help explain the distress caused when a "relationship" is lost after a phone slips out of someone's pocket.
Pursue Your Career Goals in Psychology
Nomophobia is just one aspect of psychology that is becoming more important with the rise in technology. Develop a greater understanding of psychology concepts and applications with Concordia University, St. Paul's online bachelor's in psychology. Enjoy small class sizes with a personal learning environment geared toward your success, and learn from knowledgeable faculty who have industry experience.
Recommended Articles
View All