Online Bachelor's in Psychology
Study the Human Mind to Counsel and Support Others
Learn More Today
Complete the form to learn more about this program.
Duration

As few as 2 years

Cost per Credit

$420

Credit Hours

120
Program Benefits
Eight courses focused on psychology, research, personality theory, and more
Understand the client-practitioner relationship and the counseling setting
Career-connected curriculum led by industry-experienced faculty
Christian, liberal arts education
Flexible schedule — great school/life balance
Now accepting applications – no app fee
A Bachelor of Arts in Psychology with Hands-On Learning Experiences
CSP Global's Bachelor of Arts in Psychology features a career-connected curriculum supplemented by practical field experience gained through an eight-credit internship or research practicum. Engage with industry-experienced faculty online through interactive, research-rich learning experiences. With a deep understanding of psychology concepts and applications, you can enter myriad careers in social services or human resources or pursue graduate school.
Interested in the campus version of this program? Click here.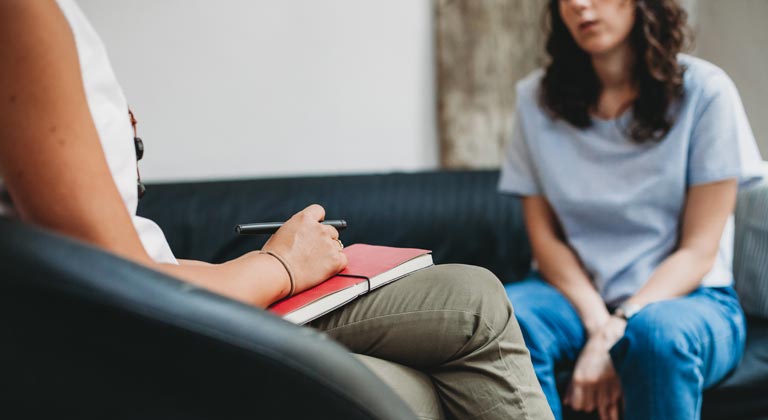 Curriculum
CSP Global's online psychology degree provides a liberal arts perspective through the General Education core, plus 43 credit hours in the degree program. You'll study developmental psychology, principles of counseling, abnormal psychology, personality theories, and social psychology. And you can customize your online degree in psychology with electives in Forensic Psychology, Health Psychology, Physiological Psychology, and Family Systems, Structures and Relationships.
Curriculum
Apply psychological theories and principles to improve the workplace and the lives of others.
Gain experience with various research methodologies to conduct research.
Demonstrate an understanding of the different types of psychology.
Admissions Requirements
To apply for the B.A. in Psychology online from Concordia University, St. Paul, you'll need:
Completed online application
Submit official transcripts from your previous regionally accredited institution(s) with a minimum cumulative GPA of 2.0 based on a 4.0 system.

If you have attended a MNSCU college or university we also ask that you provide an official accompanying DARS or MnTC goal area worksheet. CSP Global accepts completed goal areas.
Transfer students with fewer than 20 college credits completed will also need to submit an official high school transcript and essay.

Additional Requirements

Access to a computer that meets CSP Global's technology requirements.
Students who do not meet initial admissions criteria may be asked to complete the academic success essay and/or provide additional documentation.
Read More About Admissions Requirements
Tuition Details
CSP Global is proud to be the most affordable private college in the Twin Cities. The online bachelor's degree in psychology costs $420 per credit hour. You can transfer up to 90 credit hours to reduce your total tuition to $12,600. Convenient payment options and $2,000 partnership scholarships are also available to make your education even more affordable.
At CSP Global, you'll have support from industry-experienced faculty who will offer guidance and answer your questions throughout your online psychology degree program. It's yet another way the online format mimics the experience of studying on campus.
With over 25 years of experience and more than 40 online programs, CSP Global is a pioneer in online education. As part of our diverse online community, you'll receive a liberal arts education guided by Lutheran principles. The career-connected curricula, flexible learning options, and alumni connections available at CSP Global mean you'll graduate ready for success. We are committed to delivering affordable online programs with the same quality as our on-campus learning.
Online Experience
At CSP Global, you can earn a private college education at a price you can afford. In addition to financing your education with federal student aid and private loans, you will be eligible for a tuition discount offered to online students (this limits eligibility for institutional scholarships). Transfer students could receive $2,000 or more through transfer partnerships and transfer student awards. CSP Global is also a Military Friendly® institution. An enrollment counselor can help you apply for financial aid.
Tuition & Aid
Frequently Asked Questions
Are you interested in one of CSP Global's programs? Get answers to the most frequently asked questions about time to completion, accreditation, tuition and fees, admissions, and more. If applicable, you can also learn more about licensure, concentrations, or specializations offered in the program. Get more information about any online program or contact an enrollment counselor at (855) 641-2525 with further questions.
Yes, you can transfer up to 90 credit hours from a regionally accredited institution toward this degree program. Our Transfer Specialists will guide you through the process.
The B.A. in Psychology will have six start dates throughout the year, in January, March, May, July, September, and October.
This program is offered fully online from CSP Global.
Online undergraduate programs from CSP Global are $420 per credit hour.
Transfer credits must have a minimum cumulative GPA of 2.0 based on a 4.0 system.
In short, you must complete the online application, submit official transcripts, and write a brief personal essay. See the Admission Requirements page for more information.
Visit our FAQ page