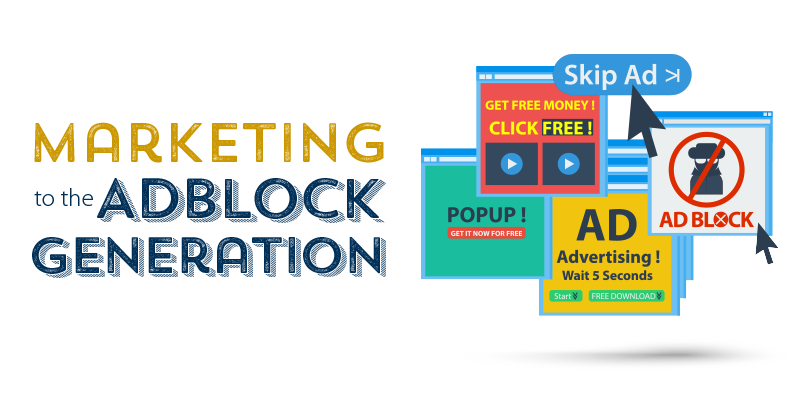 Sixty-three percent of users ages 18 to 34 are using ad-blocking software when viewing digital content, and 41 percent of internet users overall block ads. Just last year, PageFair published a report on ad-block rates that provided unprecedented insight into how many users utilize ad-blocking software when they browse the web. For example, ad blocking cost publishers around $22 billion during 2015, and U.S. ad blocking grew by 48 percent to a staggering 45 million active users as of June that same year. This widespread usage of ad-blocking methods has created a demographic that marketers can't reach with traditional digital marketing strategies.
Especially because advertising is the way content on the web is financially supported, ad blocking can have a negative effect on marketing efforts. "Many of the most popular tools marketers use to measure and analyze visitors' activities on their websites —and improve user experiences — may be affected," HubSpot says. But there are ways to create valuable web content that isn't blocked. Savvy marketers can adapt by gaining a better understanding of ad-blocking software as well as the expectations of their target audience.
The Adblock Age
Ad blocking, through browser extensions, plugins or other software, removes advertising from webpages. This can include text ads, banner ads, sponsored content and video pre-roll ads. What might be blocked by these tools varies. Some remove all advertising from webpages, while others block things that are perceived as a privacy risk, like the "tracking codes that provide marketers with information about visitors' activities on the page," according to HubSpot.
Ad-blocking methods offer benefits like faster load times and improved battery life to the user, but they can undermine the efforts of marketing teams by affecting analytics. Ad-blocking technology can also negatively impact user experience: "To a site visitor using one of those [ad-blocking] apps, your website might look like it's … missing content or has broken links," HubSpot says. Ad-blocking technology exists on a wide variety of platforms. Desktop, Android and iOS users all have the option to block ads for browser applications.

By far the most popular extension on the market is Adblock Plus, which is the most downloaded browser extension of all time, Vidooly says. As a content and ad-blocking extension, Adblock Plus has around 50 to 60 million users per month; 2.3 million people download the extension each week, ScribbleLive notes. Software like this is here to stay, resulting in a changing marketing landscape that leaves traditional methods behind.
But who is using this software? The Drum cites a study by marketing firms Moz and Fractl, which found that "the take-up of ad blocking software is most popular among millennials with a solid majority … using it when viewing digital content." The study, which focused on how to market to millennials, found that mobile/in-app advertising was perceived as least effective, with 29.5 percent finding it "very irrelevant." What's interesting is that millennials also have the highest trust in online and mobile ads, CNBC reports. This means that "if companies can send their messages in a natural way without seeming like an ad, it can be very effective," CNBC explains.
Strategies to Reach the Adblock Generation
The widespread use of ad-blocking technology means that marketers have to be smarter about how they allocate their budgets. They can achieve this by evaluating how effective their current strategy is and where it can be improved. Marketing teams can conduct research to find out if their target audience uses ad blockers, then interact with current and prospective customers to evaluate whether current ads are effective. Now that ad blockers are removing or hiding ads from websites, viewability is more important than ever. HubSpot cites a study from the Association of National Advertisers, which found that 11 percent of online display ads and 23 percent of video ads aren't displayed to real people; instead, robots create false impressions. Marketers should focus on "making sure their ads are being seen — and restrategizing and reprioritizing if they're not," HubSpot says.
A smart way to bypass ad-blocking software altogether is to incorporate inbound approaches. For example, advertise with networks like Google, Facebook, LinkedIn and Twitter, all of which are heralded by HubSpot as "doing advertising the best right now." Marketers can also increase organic traffic rather than funneling resources toward referral sources. When building out a website's content, "every new indexed page is one more opportunity for you to show up in search engines," HubSpot notes.
Millennials can manipulate technology so that they avoid content they don't want to see but still have access to what interests them.
Whitelisting is another option for those looking for ways to continue using more traditional channels. As Ars Technica points out, Adblock Plus has added more than 300 "sites/entities" to its whitelist. This list includes ads that can be trusted because they are transparent, appropriate to their context and don't "distort or disrupt the page content." Though Adblock Plus has paid deals with massive companies like Google and Amazon, smaller websites can be whitelisted for free if they meet certain criteria. The company's communications manager told Ars Technica that less than 10 percent of the sites and entities whitelisted by Adblock Plus have paid spots on the whitelist.
But for many companies, relying less on traditional channels is the way to go. The fast-paced media landscape requires a different approach. "Millennials are dissuaded by advertisers that are obviously trying to sell them a product or idea," ScribbleLive says. For this crucial demographic, authenticity and trust are important. ScribbleLive notes that 43 percent of millennials rank authenticity over content when consuming news. Trust and quality are requirements before engagement can occur.
Millennials can manipulate technology so that they avoid content they don't want to see but still have access to what interests them. In this environment, content marketing enables marketers to "reach an audience that has become immune to traditional advertising," ScribbleLive says. Marketers should also avoid excessive tracking as a way to build a relationship with their audience. According to PageFair, two-thirds of ad-block users are willing to view ads that are skippable as well. Free content is the most appealing to users, followed by free trial offers and ranking high in search results, Moz and Fractl found.
If marketers audit their current practices and identify areas for innovation, they will find that successful, engaging ads are possible in the age of ad-block technology. Prioritizing content marketing and phasing out disruptive ads can help build relationships with consumers and increase chances of reaching target audiences.
If you are interested in topics like these that are relevant the marketing industry, consider Concordia University, St. Paul's online Bachelor of Science in Marketing program.
Recommended Articles
View All