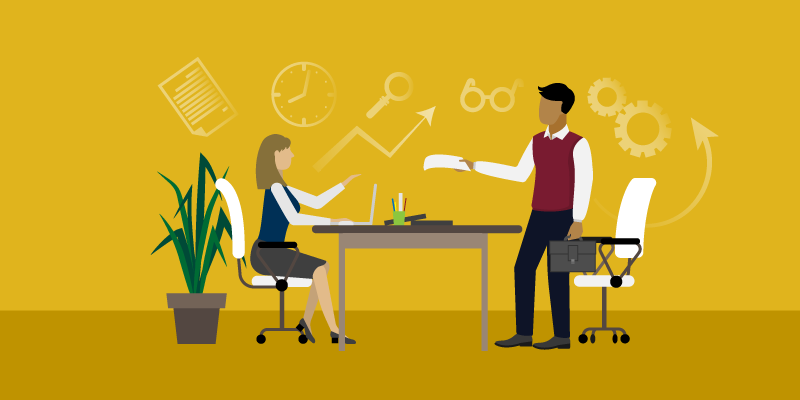 The interview for an HR position is more critical than you may think. After all, it determines if you'll become part of the department responsible for screening and hiring. The interview is not just about your qualifications for the role. How well you understand conducting interviews, developing talent, and meeting employees' needs are also factors. In an interview with so much to consider, what kinds of questions should you expect?
Top HR Interview Questions and Answers
Quiz yourself with the following questions to test how you might answer interview questions for a wide variety of HR careers. Once you've thought about or have had a chance to write down your answer, check our answers to see how you might be able to improve your responses.
1. What do you enjoy doing the most in HR?
Connect your skills to your passion. If you worked as an HR generalist and are now interviewing for a specialist role, you could express how working with employees on training programs helped you uncover something you'd like to focus on. In the new role, you can use those skills and your passion for working closely with people to help enhance an organization's workforce.
Describe what motivates you to work or want to work in this field. Implement how your experience and education can help you add value to the company.
2. What was HR's most significant contribution in your recent position?
Arrive at your interview with results from your last position. Can you link a reduction in voluntary turnover to a new benefits package or retention initiative? Did a new software program enhance efficiency for the department? Bring specific figures that demonstrate cause-and-effect relationships. If you don't have stats available, discuss past initiatives and positive anecdotal feedback you may have heard.
HR is about driving business results. Demonstrate how you've played a role in that goal to help your interviewers understand the value you can bring to the organization.
3. What's the biggest problem plaguing HR and organizations today?
In a way, this question is unfortunate, because there are several answers. Capitalize on it by revealing your knowledge about an issue like employee burnout. For this example, you could bring up how a recent study found that 97 percent of HR leaders were planning to increase their investment in recruiting technology within the next four years, but budget was often cited as a deterrent to programs that would help retain current workers. HR leaders are investing in new talent instead of existing employees.
Other examples include costly employee turnover statistics and the need for better training programs. Find a topic or two that relates to HR and, if possible, your prospective role. Remember that you can work in this answer for other questions, such as why you're passionate about HR.
4. Why do you want to work here?
Any interviewee needs to do his or her homework on a company, but you should take this a step further. Get acquainted with the organization, their mission, and other basics. Then check the company's blog, social media platforms, and perform online searches for press releases and articles to get a sense of what the organization is doing for its employees and the community.
You shouldn't want to work there simply because you like the job title, pay, or you've heard good things about the organization overall. It should be about how you, professionally and personally, connect with the company. You want to be a part of what they're doing and their growth. Spend some time researching the organization, thinking about the fit, and developing a genuine connection to what they're doing.
5. Describe a time when an employee came to you with a complaint.
How you respond to these types of questions will showcase your interpersonal and problem-solving skills. It's not just about what you're saying, though; it's also about how you express your approach to the problem, to the employee's concerns, and about the passion you exude for helping people. All of those things will be on display as you answer this question.
Your interviewer is looking for someone who is skilled and who genuinely cares. Describe the steps you took to advocate for the employee and to resolve the problem as efficiently as possible. You should also touch on how you enjoyed being there for that employee. There is a customer service side to HR; being empathetic and compassionate about your work is critical.
6. How have you responded to unethical situations?
If the question doesn't apply to your professional experience, then maybe you know someone who has dealt with this situation. You could also discuss a scenario in the news or something you've studied. At any rate, you can still speak with confidence about the event, what steps were taken, and how you would have responded.
Outline any real or hypothetical situation to demonstrate the actions you took or would have taken. Commenting on your thought process can be helpful. For instance, you could talk about what you would have done if things got worse and your overall thought process, which would help demonstrate your ability to anticipate events.
7. What questions would you ask me if you were the interviewer?
If the role you're pursuing involves interviewing candidates, your interviewer could ask what you might do if you were in his or her shoes. Try to ask a question that would allow your hypothetical candidate to solve a need at the company. If it's a data-driven company, for instance, the question could surround the candidate's past experience and future plans to measure success. Or you could ask a question about how the interviewee would help improve employee engagement or another hot-button topic in HR.
8. What are you doing to improve your skills?
Your job might deal a lot with developing employee training plans and perhaps programs that pay for their education. At the very least, you could become part of a department that values enhancing employees' skills. Those values apply to you, too. Discuss conferences you've attended, books and blogs you read, and anything else you're doing. If you're furthering your education with a master's in human resource management, that type of credential could truly make you stand out from the competition.
Don't ignore the value of education. The Bureau of Labor Statistics reports that candidates with a bachelor's degree and professional certification should have the best job prospects for becoming HR specialists. The same applies for potential HR managers who have a master's degree in human resource management.
Get the education you need to pursue entry-level and advanced roles in HR. Enhance your career and ability to impact organizations with Concordia, St. Paul's online Bachelor of Science in Human Resource Management and online Master of Arts in Human Resource Management. Enjoy small class sizes with a personal learning environment geared toward your success, and learn from knowledgeable faculty who have industry experience.
Recommended Articles
View All