6 High-Paying Healthcare Management Careers

It has long been the case that earning an MBA is a great way to make the most of your business career. And in a field like health care, a strong business background is an asset. Understanding marketing, accounting and human resources are all critical to success for health care leaders. The health care management MBA concentration at Concordia University, St. Paul can help professionals like you get the skills you need to grow your health care career.
We've put together a guide to our health care specialization, including sample healthcare management careers, to help you decide on if a healthcare MBA is right for you. All salary information is from the Bureau of Labor Statistics and PayScale.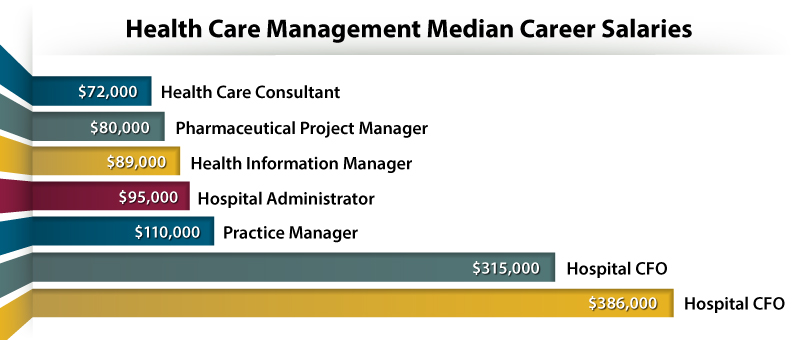 Health Care Management
Our online MBA with a health management concentration consists of 42 credit hours. Graduates with this specialization develop both practical experience and theoretical knowledge to help them succeed in the health care industry. Your course work will provide you with knowledge of relevant health care trends, combined with the strong background of business courses that make up the Concordia MBA. If you choose this specialization, you'll study topics like global economics, health care bioethics, quality practices and more. This program qualifies you for a variety of health care management careers, including the following:
These professionals help ensure that hospitals and other health care facilities run efficiently. They recruit talented doctors and surgeons, create hospital budgets, promote new treatments and more. Another important responsibility of hospital administrators is to ensure their facility complies with all laws and governmental regulation. The median salary for this career path is around $95,000.
Another great choice when it comes to health care-focused business careers is a pharmaceutical project manager. These professionals analyze investment opportunities and develop plans for promoting certain pharmaceutical products. The average annual salary for this health care role is about $80,000.
These professionals help companies in the health care industry innovate. This involves identifying problems or issues within the organization, completing research on how best to address these problems and analyzing all related data. Health care consultants then create a report that summarizes their findings and their recommendations for next steps. The average salary for this career is around $72,000.
Advance your career with Concordia University St. Paul
Advance your career in Business
Professionals in this role work in a hospital, private practice or other health care organization to manage information flow. This means that they make sure required data is delivered efficiently to the right departments within an organization. Other responsibilities of hospital information managers include making sure that computer software is updated and that all information is both stored and tracked properly, according to government regulation. Median salary for these professionals is about $89,000.
A hospital's chief executive officer (CEO) is the head of the organization, just as a CEO would be in any other business setting. They direct and plan all operations, create a budget, negotiate contracts and approve new hires. These health care professionals also analyze sales reports and find ways to save money. The salary for CEOs in a hospital setting is $386,000. A chief financial officer (CFO) within a hospital organization can expect to earn $315,000. Job responsibilities for a hospital CFO include managing all financial risks, planning budgets and keeping records. They also report financial information to other hospital executives.
This type of MBA-qualified health care professional is in charge of operations for a medical office or private practice. Their responsibilities are similar to that of a hospital administrator, on a smaller scale. The average salary for practice managers is $110,000 annually.
Our MBA with a health management concentration features the Mentor and Managerial Application Portfolio (MAP) program, which helps you succeed both during your studies and after graduation. As part of this program, each MBA student has a designated MBA faculty member to guide them through their chosen Concordia MBA program. This means that you'll have a personal business coach to help you develop networking strategies and enhance your resume.
With an online MBA in health care management, you're making a great decision to advance your career in today's thriving and complex health care industry. Graduate health care degrees with a business focus are a practical, smart way to get an education that makes a real impact on your employability. And with the growing need for health care administrators, a health care MBA specialization can help you get ahead of the curve. Learn more about Concordia's online programs and get started.