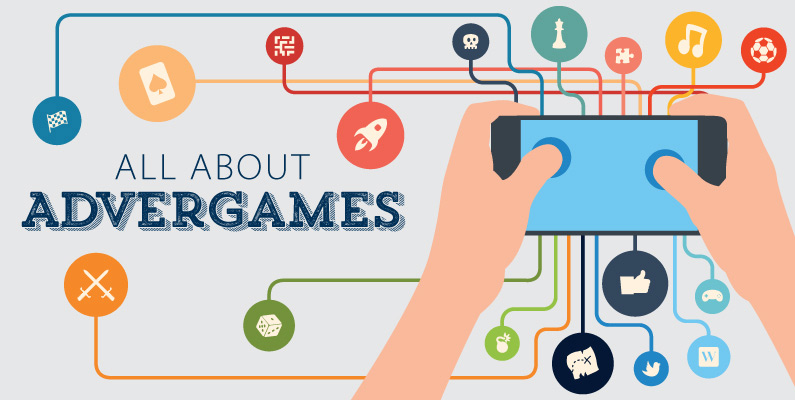 "Advergames" are games specifically created to promote a particular product or service, allowing companies to seamlessly integrate ads into digital gaming. Because digital games in general offer appeal to a large audience, marketers have begun to recognize their potential. Though the practice is not new, it has gained traction in recent years because consumers spend so much time online.
Whether for shopping, news or entertainment, most of us browse the web for hours each day. "Advergames are a marketing dream, due to the perfect storm of mobile, social and digital," Great Marketing Works founder Dan Sodergren told The Next Web. Advergames have one advantage: they engage consumers. While banner ads give companies an opportunity to target online users, they don't necessarily engage their audience. All of this means that now is the time for marketing teams to consider how advergames might fit in with their brand messaging and marketing strategies.
Using games as a marketing tactic allows businesses to associate themselves with "something that people are doing for stress relief and fun," giving consumers a positive interaction with their brands, Target Marketing points out. Educational games are another opportunity for brands to inform consumers about topics like health, finances, and other need-to-know topics. Engagement is key, with marketers aiming for numbers like these: "A game Blockdot designed for M&M's provided a more than 90 percent clickthrough rate on challenges, and a Microsoft/Prilosec OTC game … generat[ed] more than 4.5 million game plays with an average user session of 46 minutes," according to Target Marketing.
Benefits and Best Practices of Advergames
Social media has only made these games more effective. Marketers can integrate with sites like Facebook, which offers the added potential of going viral. Ultimately, today's mobile, interconnected world gives marketers the chance to create comprehensive advergame experiences. One of the ways they appeal to digital audiences with high expectations is through adding features like multiplayer, community-based platforms. This has the benefit of keeping players interested for longer periods of time: "It's something that lasts over several months, and people spend hours involved with the brand," one expert told Target Marketing.
Some of the other benefits marketers have found using advergames include:
Intrusiveness to the user is low or nonexistent while engaging with the advergame
Brand recognition is higher than with traditional digital advertising
Games can be targeted at audiences of all ages and demographics
Though advergames deploy a wide variety of game types and elements, there are best practices marketers should keep in mind when considering incorporating them into their strategy. For example, be smart about how ads are featured. You have the option of showing ads before the game is played or integrating them into the game during play, so determine which method is more effective for your target audience.
Another way to use advergames effectively is to balance advertising with game play. It is important for the game to be a good standalone product, but be sure that it has an effective marketing component. Finally, better your chances of going viral by allowing users to share the game on third-party sites rather than housing it solely on your own.
Best Advergame Examples: Past and Present
Since the early 1990s, brands have used advergames to raise brand awareness and engage with consumers. In fact, one of the biggest success stories comes from that time period. In 1992, Gremlin Graphics produced Zool: Ninja of the Nth Dimension. A platform game that uses fast-moving graphics and game play, Zool contains embedded mini-games in arcade, scrolling and Easter egg styles. It features decidedly unsubtle branding for Chupa Chups, a popular lollipop candy. Zool was highly successful and one of the best-performing platform games of all time, causing the company that produced it to release a sequel the following year.
Another example is Sneak King, developed by Blitz Arcade and released by Burger King in 2006. Sneak King came with the purchase of value meals as part of a five-week promotional campaign and was designed for Xbox and Xbox 360 game consoles. This project had great financial success, with millions of units sold. Sneak King and its companion games were among the top 10 bestselling games of 2006.
A more recent advergame that experienced great notoriety is The Scarecrow. In 2015, Mexican restaurant Chipotle released this short film and arcade-style mobile game. In it, players explore four worlds and 20 levels, with the incentive of receiving a buy-one-get-one offer from Chipotle. Some members of the media even recognized The Scarecrow as one of the most successful marketing campaigns ever.
As these examples prove, advergames can be a highly effective — and addictive — business tactic. If savvy marketers are able to leverage the benefits using some of the best practices covered here, these engaging games can be a lucrative component of marketing strategies for industries spanning from health care to food service and more. It seems that advergames are here to stay, so finding ways to incorporate them successfully is a smart way to engage audiences and raise brand awareness.
Gain the Skills to Create Campaigns Like Advergames
Discover how to develop strategic tactics such as advergames with the online Bachelor of Science in Marketing program from Concordia University, St. Paul. Through a flexible online format, you will have the ability to study when it's most convenient as you learn from faculty who have years of experience in marketing. Our online marketing program explores relevant principles and concepts that will help you succeed in the dynamic field.
Recommended Articles
View All