A specialized master's to help you enhance client satisfaction
Learn
Industry Leader Skills
Apply Prescriptive Methods
Learn More Today
Complete the form to learn more about this program.
Duration

2 years

Cost per Credit

$475

Credit Hours

33
Program Benefits
10 courses focused on psychology, physiology, ethics, exercise, and more.
Capstone project synthesizes your learning, and an optional graduate study abroad course provides a global perspective.
Perfect for current and future exercise science pros.
Now accepting applications – no app fee.
Get the latest science-based research to help others
A master's in exercise science establishes and prepares leaders for a variety of exercise science jobs. With this convenient online degree, not only will you advance your strength and conditioning, coaching, clinical practice and rehab skills, you'll go deep into the latest, science-based research to communicate to your clients the hows and whys of treatment.
You can become a stronger advocate with kinesiology, dietary modifications and screenings to improve health and wellness and prevent disease.
Your learning takes place under the direction of industry experts with a cohort of motivated pros just like you.
CSP Global's capstone synthesizes the practical knowledge you'll gain from your coursework so you're ready for employment opportunities.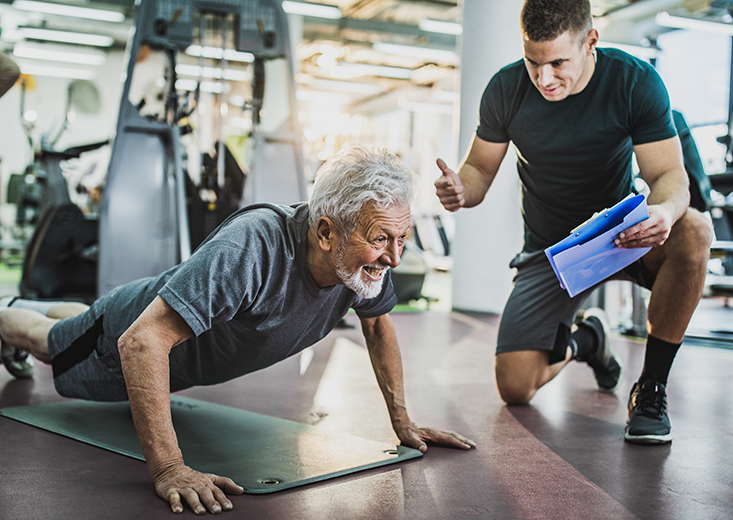 Curriculum
The M.S. in Exercise Science online program is 33 credit hours. You'll study exercise physiology, clinical exercise assessment, exercise prescription, and ethical perspectives.
Curriculum
Demonstrate advanced knowledge of exercise principles, strength and conditioning concepts, and nutritional influences on the body's physiological adaptation to exercise.
Differentiate between various research methodologies and their appropriate use within the exercise science industry.
Gain the necessary skills to conduct safe exercise testing and create exercise prescriptions focused on health, disease prevention, and chronic disease management.
Demonstrate knowledge on the application of psychological approaches to working with individuals in an exercise and sport capacity.
Develop the ability to synthesize scientific-based learning in current exercise science topics and communicate effectively through discussion, written work, and oral presentations.
Prepare for employment opportunities in the field of exercise science in public, private, and corporate settings.
Proactively apply knowledge in a real world setting, integrating ethical standards and appreciation of population diversity.
Tuition Details
The master's in exercise science from CSP Global costs $475 per credit hour. Your total tuition will be $15,675. Convenient payment options and $2,000 partnership scholarships are also available to make your education even more affordable.
You'll have support from expert faculty members at CSP Global, who will be there to answer your questions and guide you throughout your online M.S. in Exercise Science program. It's yet another way that the online format mimics the experience of studying at campus.
Online programs from Concordia University, St. Paul are designed for your busy lifestyle. You can study at your convenience while taking advantage of our asynchronous programs, designed for your busy lifestyle. With our flexible cohort framework, you'll get to know your peers and faculty while engaging in unique assignments and activities. Explore the various ways that you will receive support through every stage of the online learning experience and discover tips about how to maximize your resources.
Online Experience
In addition to financing your online education with federal student aid and private loans, CSP offers online students a tuition discount (this limits eligibility for institutional scholarships). Transfer students could receive $2,000 or more through transfer partnerships and transfer student awards. CSP is also a Military Friendly® institution. An enrollment counselor and tuition planner will help you apply for financial aid.
Tuition & Aid
Frequently Asked Questions
Are you interested in one of CSP Global's programs? Get answers to the most frequently asked questions about time to completion, accreditation, tuition and fees, admissions, and more. If applicable, you can also learn more about licensure, concentrations, or specializations offered in the program. Get more information about any online program or contact an enrollment counselor at (855) 641-2525 with further questions.
Yes, you can transfer up to 50 percent of the program's credit hours from a regionally accredited institution toward this degree program. Our Transfer Specialists will guide you through the process.
The M.S. in Exercise Science has 11 courses.
The online M.S. in Exercise Science from CSP Global is $475 per credit hour.
CSP Global only offers this program in a fully online format.
You must have a minimum cumulative GPA of 3.0 based on a 4.0 system.
Your first step is to complete the online application, and then prepare your high school or college transcripts, if applicable. See the How to Apply page for more information.
Visit our FAQ page