Certificate in Forensic Behavioral Health
A forensic certificate online for the human services pro interested in the criminal mind
AIAFS Partnership Program
Evidence-Based, Non-Clinical Assessments
Comprehensive, Educational Approach
Learn More Today
Complete the form to learn more about this program.
Duration

1 year

Cost per Credit

$475

Credit Hours

15
Program Benefits
5 courses focused on human services and FBH
Understand clients better through knowledge of common behavioral health conditions and risk factors
Now accepting applications – no app fee
Earn your grad certificate online while working
A certificate program that enhances forensic behavioral health knowledge
With CSP Global's Certificate in Forensic Behavioral Health, you'll focus on forensic disciplines and criminal justice issues by studying evidence-based practices and therapeutic strategies. Improve the lives of those who are in the criminal justice and legal system – and their families – through cultural, theoretical, ethical and practical considerations.
You'll complete your forensic certificate online and graduate with proven intervention strategies to create solutions to client cases in your current role.
Share knowledge and experiences with faculty who are industry experts and your cohort as you study psychopathology, violence, risk assessment and special populations.
Gain comprehensive knowledge to become a courtroom advocate through a convenient graduate program that is AIAFS approved.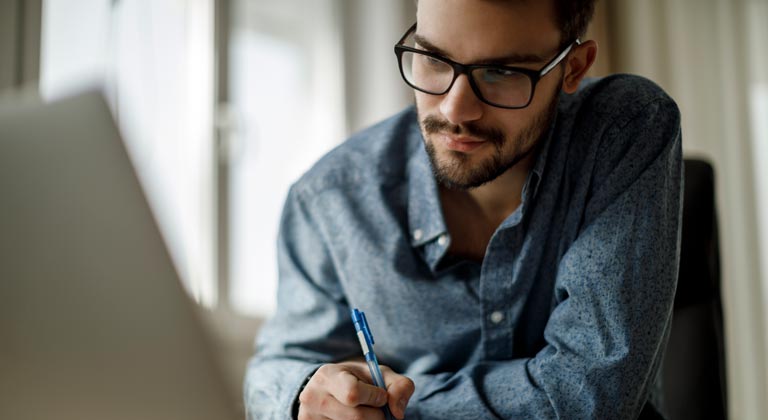 Curriculum
The behavioral health certification is 15 credit hours. You'll study the roles and responsibilities of human service professionals, various forms of trauma and their impacts on global functioning, research on issues in human services, and evidence-based intervention and treatment strategies.
Curriculum
Demonstrate knowledge of the historical overview and role of human service professionals delivering services across diverse settings.
Understand interventions and evidence-based assessment, and prevention techniques, as well as common community-based resources.
Use enhanced communication skills, problem-solving strategies, advocacy, and credible courtroom testimony skills, as well as ethical and legal practices that human service professionals need to follow when working within the forensic behavioral health system.
Tuition Details
The forensic psychology certificate online program from CSP Global costs $475 per credit hour. Your total tuition will be $7,125. Convenient payment options and $2,000 partnership scholarships are also available to make your education even more affordable.
You'll have support from expert faculty members at CSP Global, who will be there to answer your questions and guide you throughout your behavioral health certification program. It's yet another way that the online format mimics the experience of studying at campus.
Online programs from Concordia University, St. Paul are designed for your busy lifestyle. You can study at your convenience while taking advantage of our asynchronous programs, designed for your busy lifestyle. With our flexible cohort framework, you'll get to know your peers and faculty while engaging in unique assignments and activities. Explore the various ways that you will receive support through every stage of the online learning experience and discover tips about how to maximize your resources.
Online Experience
In addition to financing your online education with federal student aid and private loans, CSP offers online students a tuition discount (this limits eligibility for institutional scholarships). Transfer students could receive $2,000 or more through transfer partnerships and transfer student awards. CSP is also a Military Friendly® institution. An enrollment counselor and tuition planner will help you apply for financial aid.
Tuition & Aid
Frequently Asked Questions
Are you interested in one of CSP Global's programs? Get answers to the most frequently asked questions about time to completion, accreditation, tuition and fees, admissions, and more. If applicable, you can also learn more about licensure, concentrations, or specializations offered in the program. Get more information about any online program or contact an enrollment counselor at (855) 641-2525 with further questions.
Yes, you can transfer up to 50 percent of the program's credit hours from a regionally accredited institution toward this degree program. Our Transfer Specialists will guide you through the process.
Yes, this certificate program follows a cohort model.
The program's 15 credit hours can be completed in 9 months. However, your transfer credits will vary the time it takes you to complete the degree.
Your first step is to complete the online application, and then prepare your high school or college transcripts, if applicable. See the How to Apply page for more information.
To apply, you must complete the online application, submit official transcripts, and write a brief personal essay. See the Admissions Requirements page for more information.
While not accredited, the Certificate in Forensic Behavioral Health is offered in partnership with the American Institute for the Advancement of Forensic Studies (AIAFS).
Visit our FAQ page