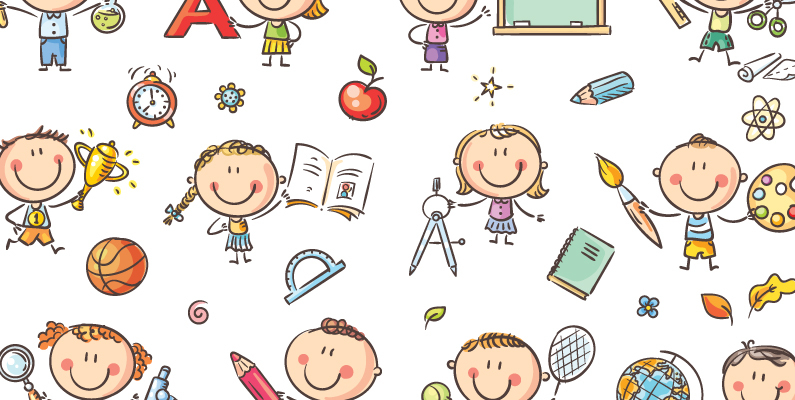 Teaching requires a lot of planning, from organizing the classroom to developing engaging content for students every day. It is important for teachers – especially those working with young children – to establish a vetted repertoire of go-to lesson plans to promote development that is critical from birth to grade 3.
With the constant introduction of new learning standards and changing curriculum requirements, educators must be ready to identify and incorporate new resources for their students. That's why we've compiled the ultimate guide to online lesson plans. Listed alphabetically, you can find valuable teacher resources, including lesson plans, printable classroom materials, worksheets, interactive activities, discussion boards and more. Browse our list and get inspired!
Early Childhood Education Lesson Plans
Free lesson plans sorted by grade and subject.
Thousands of free printables and education clip art. Members section includes tools to generate customizable materials.
Free art lesson plans by grade.
Teacher blog with lesson plan resources by grade.
It's a wiki for curriculum. Free lesson plan database, searchable by grade or subject and state standards.
Free K–5 teacher resources in science, technology, social studies, math and language arts from The Discovery Channel.
A list of free online resources created by teachers, for teachers.
Preschool lesson plans designed to develop essential early learning skills.
Free lesson plans, worksheets and activities sorted by grade and subject.
Free coloring pages for virtually any subject.
Elementary Lesson Plans (Pinterest boards)
A listing of all Pinterest boards for elementary school teachers.
A compendium of free printable worksheets.
A good site for hands-on activities.
Games, lesson plans and community. Features popular animated characters from DreamWorks Studios. Lesson plans are sorted by subject.
Find and review lesson plans from other teachers and submit your own. Membership is free.
Reading Instruction resources for teachers and parents.
K–6 elementary education lesson plans. Plans are downloadable as PDF files.
Activity inspiration for kids of all ages.
Links to resource pages, rated by users.
More than 400,000 online lesson planning resources reviewed and rated by a team of credentialed teachers. Search for lesson plans and filter results by grade level.
Inspiration for Montessori activities in class and at home.
Fun theme-based children's activities.
[cta]
Free and customizable math worksheets for all grades K–12.
Free printable arts and crafts.
National Education Association
A list of free lesson plans with searchable database.
Resource for parents and teachers filled with fun activities for young children.
PBS Learning Media for Teachers
Thousands of free teacher resources, including current event lesson plans, interactives and videos, from PBS.
Blog with resources for Pre–K teachers, including activities and printables.
Age-appropriate learning activities for Pre–K students.
Preschool Lesson Plan Pinterest boards
A listing of all Pinterest boards for preschool teachers.
Hundreds of standards-based lesson plans written and reviewed by educators.
Thousands of free lesson plans, unit plans, discussion guides and extension activities from Scholastic.
Free worksheets, math activities and fun games.
A space for educators to share free K–12 learning materials, including activities, worksheets and lesson plans. More than 260,992 free teaching resources.
Smithsonian's History Explorer
Free history lesson plans developed by The Smithsonian Institute. Searchable by grade level and topic.
Free math and language arts games and worksheets for preschool through middle school students.
Vocabulary lessons for students in elementary through high school, including word lists, articles, videos, research and a members-only message board.
Comprehensive standards toolbox for teachers, parents and administrators.
Lesson plans designed specifically for kindergarteners.
A variety of free printable worksheets.
Free lesson plans for all subjects, grades K–5. Printable worksheets, seasonal color pages, bulletin board resources and more.
Thousands of free lesson plans.
A free collection of lessons, units and web resources designed to save teachers time by delivering materials in a user-friend, ad-free format.
Games, worksheets, puzzles, experiments, stories and crafts for kids in Pre-K through second grade.
Customizable worksheets made to your specifications. Free PDF worksheets you can easily create to fit specific needs.
Prepare for Success as an Early Childhood Educator
Concordia University, St. Paul's online education programs are designed to prepare educators for success. Our child development and early education degrees prioritize relevant coursework specifically for teachers of young children in schools, child care and other learning settings. We combine theoretical and practical approaches that emphasize advocacy, leadership and real-world application so you can help young learners achieve more. With offerings at the associate, bachelor's and master's level, you can choose the program that's right for your career goals in the early education field. Explore our degrees today.
Recommended Articles
View All