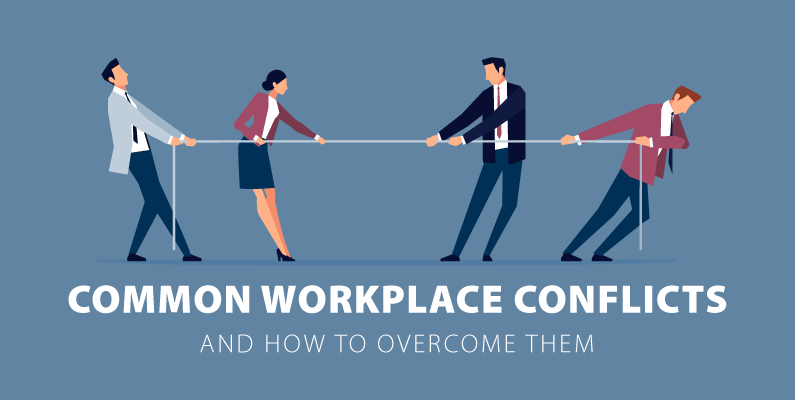 Managers need to know how to handle conflict in the workplace. One study found that 85% of employees deal with conflict in their working lives, and it costs U.S. companies an estimated $359 billion annually.
Part of dealing with and resolving conflict as a manager is to recognize common workplace conflicts. Sometimes, a simple disagreement might not require any intervention, but if the same type of situation repeats itself or spreads, you'll need to get involved. It's even more important when workers take conflict personally.
This article takes a look at some common conflicts in the workplace. It also features an interview with a manager who offered insight on how to resolve conflict at work. Both topics can help you not only handle conflict better, but become a more efficient manager and leader.
Examples of Common Workplace Conflicts
As you can imagine, common conflicts in the workplace can span all kinds of behavior. Appropriately, researchers have identified different types of conflict that make issues easier to categorize. Negotiation Journal presented three ways to classify common workplace conflicts.
The first type is process conflict, which refers to how work gets done. Delegation and logistics are common causes here, with arguments arising out of different methods, procedures, and strategies that people can take exception to. Common examples would be how specific tasks are distributed to specific team members, who will track minutes during meetings, and who has the final say in brainstorming sessions.
Another type is task conflict, which refers to the content and outcomes of work. What's the best way to solve a particular task? Several disagreements can develop out of that question in various organizational settings. For instance, a marketing team might have different perspectives on how to allocate a client's advertising budget for the month. If teams and workers aren't careful, negative feelings can easily devolve into the final type of workplace conflict.
Relationship conflict is the final and most dangerous type of work conflict. Here, anything unrelated to work can be the culprit. Often, personality clashes are to blame, but other things like political views, hobbies, or social events can be involved. For instance, people in the same marketing team that engaged in task conflict may take things further and start thinking less of other people. Relationship conflict is the biggest threat to employees' stress and well-being out of all types of workplace conflict.
[cta]
How to Handle Conflict in the Workplace
Each conflict in the workplace can require its own special reply. Yet, there are certain principles that guide managers' reactions to conflict in the workplace. In an interview with Kori Hinkley, a workflow coach at the global publishing company John Wiley & Sons, Inc, she expanded on her approach to workplace conflict and offered an example of it in action. Hinkley coaches and trains enrollment counselors, who help recruit and enroll higher education students.
"When I am addressing conflict, I start out by getting to the root of the problem," she said. "One of the most frequent things that I see as a manager is miscommunication (verbally and/or written). Communication is an extremely important key to being successful with anything in life and when communication between two co-workers get construed things can get messy quick."
"In my opinion, resolving conflict often relates back to empathy and understanding, a rather simple skill that some employees don't often consider will resolve an issue," she added. "For instance, in the past I have dealt with two employees, on the same team, that encountered conflict with each other daily. When this first started happening I couldn't really understand what the issue was; both employees were great at their jobs, they were both well into their professional careers, and were seemingly mature for two people that just couldn't get along with each other. Almost every day one would complain about the other, and it got to a point where other employees noticed. They often argued, but at the same time ignored each other, this clearly wasn't an efficient or effective way for team mates to communicate, and it started to affect their work."
Hinkley's employees may not have started out with relationship conflict, but that was the result. Some workers hide process- or task-related so well that it's tough to see the signs before they appear in a way similar to the example. Thankfully, it's not too late to bring employees together to discuss the matter before further dysfunction ensues.
"My plan of action was to speak to both employees and understand each of their points of views on the situation," Hinkley explained. "I met with both one-on-one. Upon meeting with the first employee, he immediately brought the issue up to me unprompted. He began to complain about the other, saying that he [the other employee] didn't care about our team and overall just wasn't a team player. This really bothered him, and he couldn't seem to understand how someone could be so careless. I spoke with the other employee and, yet again, he brought up the situation to me unprompted, however, his point of view was quite the opposite. He couldn't understand why there was conflict in the first place. He said he had noticed that the other employee often liked to start arguments with him or seemed to ignore him throughout the day."
In search of a solution, Hinkley decided to stay true to one of the keys she mentioned initially, with communication. She started encouraging her team members to share how they preferred to communicate. "We did a few team building exercises and had weekly meetings at the end of every week where everyone on the team got tell us their wins for the week and shout out another co-worker for something that they'd done well that week," Hinkley said. "I quickly noticed that tensions between these two dissolved and things continued to remain friendly and cordial. They both soon realized that they just simply didn't understand the other and before this often found themselves miscommunicating with each other."
The example demonstrates how managers can temper emotions and miscommunications that have the power to undermine company culture. Other conflicts can use the same principles, but they'll likely incorporate other strategies. If you're looking for a way to better prepare yourself for those situations, the right education can help. You can earn an online MBA that emphasizes strategic leadership, business ethics, and other areas that directly impacts how you communicate and lead others. You'll also receive instruction in areas like economics, finance and accounting, marketing, and more.
Earn one of the most sought-after degrees in a fully online format from Concordia University, St. Paul. There's no GMAT or GRE score required, and you can transfer up to 50% of your graduate credits to CSP. Pursue your career goals and learn from professors who have real-world experience.
Recommended Articles
View All