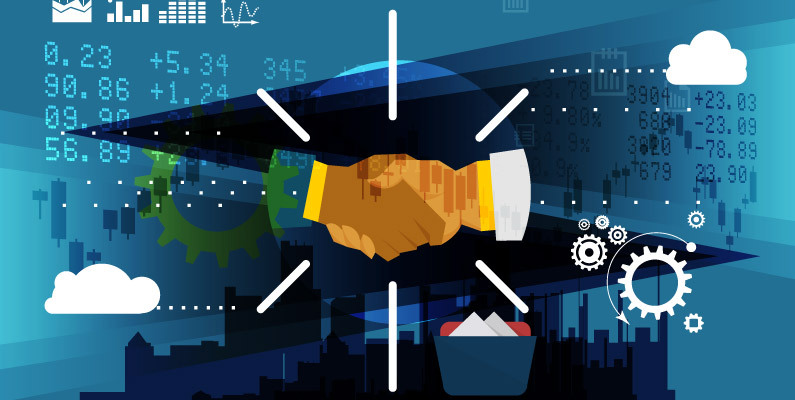 Many business professionals will experience a merger during the course of their careers. In fact, mergers and acquisitions are common business practices, particularly in industries like health care, technology, finance and retail. With the rapid pace of innovation in the modern business world, it's important to understand why — and how — mergers and acquisitions happen.
Why Companies Merge
In many cases, synergy is the cause. This term refers to the practice of combining business activities to increase performance while decreasing costs. When two businesses have complementary strengths and weaknesses, Investopedia notes that merging makes strategic sense.
In other cases, mergers occur as a means of diversifying or sharpening the focus of a business. "A company that merges to diversify may acquire another company in a seemingly unrelated industry in order to reduce the impact of a particular industry's performance on its profitability. Companies seeking to sharpen focus often merge with companies that have deeper market penetration in a key area of operations," Investopedia explains.
Mergers can also help companies grow market share by purchasing a competitor's business. This practice is referred to as a horizontal merger, while vertical mergers are focused on the supply chain. "If a company buys out one of its suppliers, it is able to save on the margins that the supplier was previously adding to its costs," according to Investopedia. Especially in the case of buying out a distributor, this type of merger can have a significant positive impact on production costs.
Of course, one of the most common reasons for pursuing a merger is eliminating competition from other businesses. When a company acquires a competitor through an acquisition deal, it can gain a much larger market share in one fell swoop. However, this practice can be costly, so it is important for businesses to be sure of the benefits before choosing to begin a merger and acquisition deal. Investopedia notes that "a large premium is usually required to convince the target company's shareholders to accept the offer" rather than sell their shares.
Top Mergers
The following are among the biggest mergers of all time.
Vodafone and Mannesmann
This merger, which took place in 2000, was worth over $180 billion and is the largest merger and acquisition deal in history. In it, U.K.-based Vodafone acquired German company Mannesmann. As a result, Vodafone became the largest mobile operator in the world while setting the stage for future deals in the telecom industry. Many Germans were against this deal because they wanted German businesses to remain key players in the global marketplace.
The deal was significant because it signaled the telecom boom as mobile phones began increasing in popularity. However, it was not ultimately successful. "After Mannesmann rejected Vodafone's first offer, Vodafone had to nearly double its offer…Unfortunately, the combination didn't work out the way Vodafone hoped, and as a result, it had to write off tens of billions of dollars in the following years because of it," Business Insider explains.
America Online and Time Warner
This merger is the second largest in history, and it took place during the same year as the Mannesmann acquisition. In 2000, America Online (more widely known as AOL) acquired Time Warner for $164 billion. At the time, most Americans used their landline phone service to access the internet through provider AOL, making the company one of the biggest technology organizations in America. Though expensive, this deal lasted only nine years. In 2009, Time Warner became an independent company as AOL continued to lose value in the post-dial-up age.
Pfizer and Warner-Lambert
Also in 2000, pharmaceutical company Pfizer acquired Warner-Lambert for $90 billion. This merger is considered by some experts to be "one of the most hostile in history" because Warner-Lambert was originally to be purchased by consumer goods company American Home Products. However, American Home Products "walked away from the deal with $1.8 billion worth of break-up fees, one of the largest ever payouts for a failed deal," according to Yahoo Finance.
When Pfizer acquired Warner-Lambert, the result was the second largest drug company in the world. The main reason for the acquisition was ownership of top-selling cholesterol medication Lipitor: "Pfizer had commercial rights to Lipitor, but Pfizer was splitting profits on it with Warner-Lambert, and in 1999, Warner-Lambert sued Pfizer to end their licensing pact," Business Insider explains. By acquiring Warner-Lambert, Pfizer removed any risk associated with the lawsuit and gained sole control of Lipitor's skyrocketing profits, which grew to more than $13 billion annually.
AT&T and BellSouth
In 2006, AT&T announced its plans to acquire BellSouth. This deal would ultimately cement AT&T's place as a major player in the wireless industry. In purchasing BellSouth for $86 billion, AT&T was able to expand coverage into rural areas of the United States, giving AT&T an advantage as the mobile phone market expanded. "The firm used its new position to create bundled services that included mobile services along with television and internet connections in an effort to gain new subscribers and dissuade customers from switching to new providers," Yahoo Finance explains.
Exxon and Mobil
This merger took place in 1999 and created a "superpower" in the energy industry. Oil prices were consistently low, and energy companies were taking a hit as a result. This led Exxon and Mobil to merge in a deal that Yahoo Finance calls "one of the most successful in M&A history." The U.S. government approved the deal after assurances that the two merging companies would sell over 2,400 gas stations across the country. "Exxon defended the deal, the largest in a string of consolidation moves in the industry, citing price pressure on crude oil, the need for greater efficiency and new competitive threats overseas," CNN Money explains.
Online Programs from CSP Global
If you are interested in topics like these that are relevant to the business world, consider CSP Global's online Bachelor of Arts in Business degree, which provides students with a strong foundation of business skills. For professionals ready for advanced business education, CSP Global offers a fully online MBA. Through mentorship and advanced coursework in core business topics, this program provides students with skills to advance their careers while becoming experts in their chosen industry. Many of CSP Global's programs are available both online and on campus.  
Recommended Articles
View All