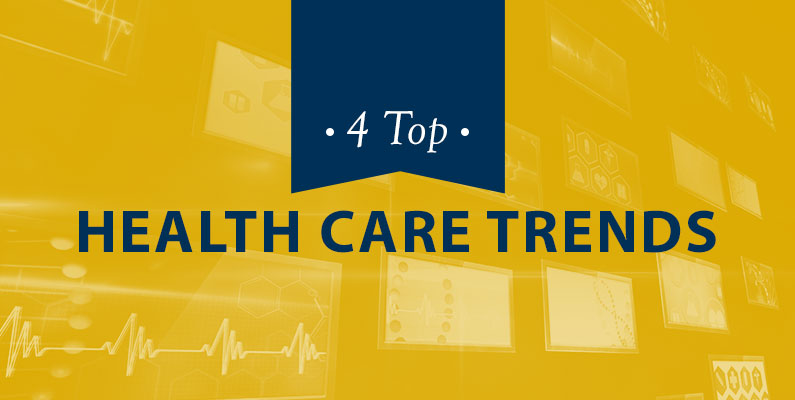 There has been rapid change in the United States health care system in recent years. Organizations have encountered emerging trends related to payment models, regulation, technological advancements, and workforce transformation. In addition, population models are shifting fast: "To be sure, both payer and provider executives will continue to plan for the projected 80 million Medicare beneficiaries in 2030. Still, seniors will soon be outnumbered by millennials as the patients demanding care from the U.S. health care system," Managed Healthcare Executive explains.
With the uncertain future of the Affordable Care Act, health care management professionals must find a balance between delivering the highest-quality patient care and meeting business needs. The following are some of the top health care trends of the past few years.
1. Technological Advances
One of the most well-publicized trends in health care is the advent of new technologies that make health a more personalized experience. "Consumers are much more digitally attuned than ever before, and they want the delivery of their healthcare to be convenient and easy," Managed Healthcare Executive notes. One of the ways this is accomplished is through telehealth services.
Younger patients, in particular, are utilizing telehealth, which includes patient portals and live video chats with health care professionals. In fact, 40% of millennials support the use of telehealth, according to Business Insider. Telehealth services are ideal for consumers who live in rural areas, as well as those who prefer not to take time out of their day for office visits.
Wearable health monitoring is another new innovation in health care. "With help from automation, patients can even be prompted to check their weight, pulse, or oxygen levels, and enter results into mobile patient portals," Forbes says. They can also share health information with their doctors in real time. This can be lifesaving, especially for elderly patients.
2. Network Security
Though technology is, of course, improving health care delivery and services, it does introduce some serious concerns when it comes to security. When a data breach occurs, important and private consumer information can lead to medical identity theft. In fact, there were 87,765 cases of medical and insurance identity theft in 2018 alone, and the average victim spends $13,500 to fix the issue. If an organization doesn't have adequate security measures in place, it can face lost revenue through lawsuits and loss of reputation.
3. Patients as Consumers
Patients are also participating in their own health care in a new way. With high deductibles that continue to increase, they are looking for tools to provide price and quality information so that they can determine if they're getting the best value for their money. This consumer approach to health care means that providers are feeling pressure to give patients ways to comparison shop and understand the cost of their medical care. Consumers are expecting price transparency, and in order for health care providers to succeed, they will have to meet this expectation.
4. Enhanced Communication Through AI
Because of preventable medical errors, more than 250,000 patients in the U.S. die every year, according to a study conducted by Johns Hopkins. It's not just because of miscommunication among medical staff members, but also because of miscommunication between patients and their doctors.
Along with telehealth, as mentioned above, doctors are seeking ways to improve communication through the use of artificial intelligence. While patients can schedule appointments and talk to their doctors from the comfort of their home, physicians are enhancing their ability to interact with other doctors to improve the quality of health care.
Make an Impact on the Future of Health Care
With health care trends like these affecting the modern health care system, now is an exciting time to be a health care management professional. They are at the forefront of innovation, leading the changes that continue to transform how patients access health care services.
If you are interested in the business of health care, consider Concordia University, St. Paul's online MBA in Health Care Management program. With coursework that focuses on both core business topics and the latest trends in the health care industry, this program gives you the confidence to impact the future of health care and become a leader in the field.
Recommended Articles
View All