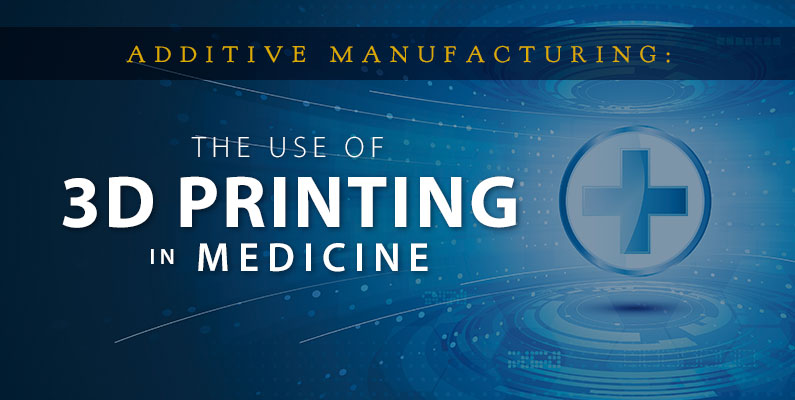 One of the latest emerging technologies in the manufacturing industry is 3D printing. In fact, the 3D printing industry grew by more than 35 percent in 2014 alone, according to Harvard Business Review (HBR). But what is this emerging technology? And how does it work?
What Is 3D Printing?
Also known as additive manufacturing, rapid prototyping or solid free-forming technology, the process creates 3D objects by building multiple layers of material. Working from a computer model, it allows manufacturers to "devise completely new shapes without regard for existing manufacturing limitations," according to MIT Technology Review. The process uses Computer Aided Design (CAD) software by reading data from the CAD file and adding successive layers of liquid, powder or sheet material in a layer-upon-layer fashion to create a 3D object.
While traditional manufacturing methods rely on the removal of excess materials, 3D printing is additive, meaning it only uses the materials required to create the product. This increases precision while removing waste and extraction costs, HBR explains. Though there are many exciting opportunities for utilizing additive manufacturing, "the most transformative applications for this technology will need time to evolve," according to "Medical Applications for 3D Printing: Current and Projected Uses" by C. Lee Ventola.
3D printing is expected to transform the medical field, with experts comparing it to the impact of the printing press.
Applications of this relatively new technology can be seen in enterprises ranging from engineering to textiles, but perhaps one of the most exciting uses of 3D printing is in the health care field. In fact, 3D printing is expected to transform the medical field, with experts comparing it to the impact of the printing press. There are many uses for 3D printing in health care, including tissue fabrication, anatomical models and pharmaceutical research, Ventola says.
3D Printing in Medicine
As leading researchers become more familiar with the capabilities of 3D printing, they are finding many ways to incorporate the technology. For example, HBR notes that it has been used to create 3D-printed skin for burn victims and airway splints for babies with tracheobronchomalacia, a disease of the central airways. What's most notable about the latter application is that the splints can be created quickly, cost about $10 per unit and are designed to grow with the patient, the same article notes.
Scientists at Princeton University have also discovered that 3D printing technology can be used to "create a bionic ear that can hear radio frequencies far beyond the range of normal human capability, in a project to explore the feasibility of combining electronics with tissue," HBR reports. And because these exterior uses are going well, there is a real possibility that 3D printing will be used to replicate internal organs in the future, mitigating the need for donor waiting lists.
3D printing is an exciting prospect for cancer treatment as well. Researchers created facial prostheses for eye cancer patients in 2014, and another research team was able to print "patient-specific, biodegradable implants to more effectively cure bone infections and bone cancer," according to HBR. Like most additive manufacturing applications, these technologies are inexpensive and efficient to use.
Scientists are finding other ways to apply additive manufacturing technology, and its use goes beyond life-threatening medical conditions into more conventional medical practice. For example, 3D-printed casts and pharmaceuticals have been developed in recent years. "The 3D-printed cast, for example, heals bones 40-80% faster than traditional casts. 3D-printed pills allow for interesting new pill shapes that completely alter the drugs' release rates," HBR reports. It is important to note that these technologies are in the early or research stages and aren't yet available for widespread use.
What the Evolving 3D Printing Process Means for Medicine
There are many advantages to incorporating additive manufacturing into the health care industry. Perhaps the most critical is the ability to create custom products and equipment. Personalized implants and tools can decrease the time needed to perform surgery as well as speed up patient recovery time, Ventola says. In addition, customization can improve the changes of a treatment or procedure's success. "It is also anticipated that 3D printing technologies will eventually allow drug dosage forms, release profiles, and dispensing to be customized for each patient," the same article continues.
The advent of 3D printing stands to decrease health care costs. Medical items can be produced quickly and cheaply, especially for small prosthetics and implants. This is especially relevant for spinal, dental and craniofacial disorders, Ventola explains. Even printing custom products is relatively inexpensive. Savings during the manufacturing phase can be passed on to patients as well, lowering health care costs across the board.
Finally, 3D printing is creating a climate of collaboration as materials become more widely available and costs decrease. "This allows more people, including those in medical fields, to use little more than a 3D printer and their imaginations to design and produce novel products for personal or commercial use," Ventola says. Now more than ever, researchers can test promising ideas and share their work with others. Using downloadable open-source files, work can be replicated exactly. This has democratized the research and development process.
The Future of Medical 3D Printing
It is clear that innovation in additive manufacturing presents a host of benefits that could revolutionize the health care industry. New developments like the ones featured here have "the potential to disrupt the alarming trajectory of rising health care costs at exactly the moment when aging Baby Boomers will be putting more pressure on the health care system," HBR says. This makes 3D printing a vital topic for health care professionals in a wide variety of roles.
If you are interested in health care topics like these, consider Concordia University, St. Paul's online MBA program in Health Care Management. With coursework that focuses on both core business topics and the latest trends in the health care industry, this degree prepares graduates with the confidence to succeed in their chosen career path.
Recommended Articles
View All