More professional opportunities with in-demand IT and analytics skills
Learn More Today
Complete the form to learn more about this program.
Duration

1.5 years

Cost per Credit

$625

Credit Hours

30
Program Benefits
Convenient, CSP online format with 8-week courses.
Provides a solid foundation of business intelligence, data analytics and data science with hands-on practice.
Synthesize all your knowledge with a final Capstone project.
Now accepting applications – no app fee.
Learn Fortune 100-trusted data tools from CSP online expert faculty
CSP's Master of Science in Data Analytics degree gives you the opportunity to stay on top of the growing data analytics field with the latest tools and technologies to help lead organizations. Our expert faculty are prepared to help you analyze testing techniques, use open-source R and Python to program data analytics capabilities, identify numerical optimization in linear programming, and give you all the practice you need with tools like Hadoop, Spark and Splunk.
With CSP's data analytics degree, you will be ready with skills to gather and store big data in a high-salaried role. Employers are on the hunt for pros with your skillset.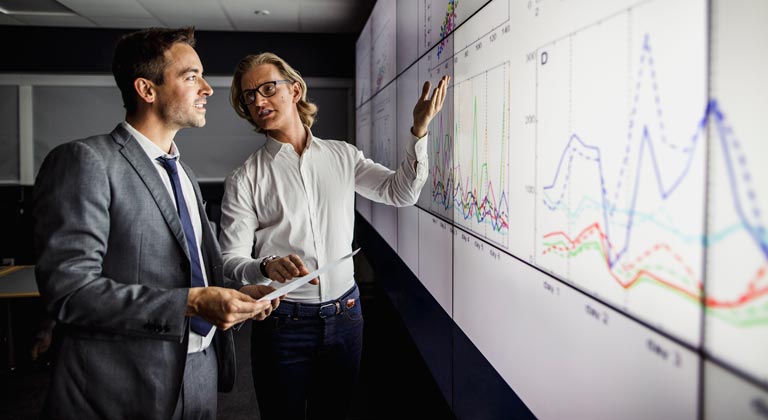 Curriculum
The online data analytics master's degree from CSP is 30 credit hours. Expert faculty will offer guidance as you:
Analyze various testing techniques such as hypothesis testing, two sample and one-way analysis of variance (ANOVA) tests, chi-square tests, simple linear regression, and multiple regression.
Utilize an open-source R statistical package plus Python to program data analytics capabilities.
Identify statistical graphic simulations and numerical optimization in linear programming.
Explore designing a decision support system (DSS) using object-oriented technologies.
Practice with big data analytic tools such as Hadoop, Spark, and Splunk.
Curriculum
Manage an organization's technology and innovation through self-learning and ethical perspectives.
Compare and contrast different delivery methodologies in order to manage a technology organization and their respective teams.
Interpret the tools and techniques related to prescriptive, descriptive, and predictive analytics.
Discover the concepts of decision support systems (DSS) using the R statistical support package and Python for business intelligence (BI), including decision-making, data components, model components, and the use of user interfaces.
Assess various aspects of big data analytics by identifying the tools, technology, applications, use cases, and research directions used in the field.
Explore predictive models used in analytics, determine non-linear extraction of big data analytics, and study methods in data mining and large-scale data clustering.
Tuition Details
The master's in data analytics online program from CSP costs $625 per credit hour. Your total tuition will be $18,750. Convenient payment options and $2,000 partnership scholarships are also available to make your education even more affordable.
You'll have support from expert faculty members at CSP, who will be there to answer your questions and guide you throughout your online data analytics master's degree. It's yet another way that the online format mimics the experience of studying at campus.
Online programs from Concordia University, St. Paul are designed for your busy lifestyle. You can study at your convenience while taking advantage of synchronous or asynchronous coursework. With our flexible online framework, you'll get to know your peers and faculty while engaging in unique assignments and activities. Explore the various ways that you will receive support through every stage of the online learning experience, and discover tips about how to maximize your resources.
Online Experience
In addition to financing your online education with federal student aid and private loans, CSP offers online students a tuition discount (this limits eligibility for institutional scholarships). Transfer students could receive $2,000 or more through transfer partnerships and transfer student awards. CSP is also a Military Friendly® institution. An enrollment counselor and tuition planner will help you apply for financial aid.
Tuition & Aid
Frequently Asked Questions
Are you interested in one of Concordia's online programs? Get answers to the most frequently asked questions about time to completion, accreditation, tuition and fees, admissions, and more. If applicable, you can also learn more about licensure, concentrations, or specializations offered in the program. Get more information about any online program or contact an enrollment counselor at (855) 641-2525 with further questions.
If qualified, up to 50 percent of your previous graduate coursework may transfer. Our Transfer Specialists will guide you through this process.
The online M.S. in Data Analytics has 10  courses.
Without transfer credits, completing 30 credit hours at $625 per credit hour totals $18,750. However, with the maximum amount of transfer credits (50 percent), your total tuition could be as low as $9,375. You might also qualify for one of several‬ scholarships or financial aid.
This program is offered in a fully online, asynchronous format.
The online M.S. in Data Analytics will have starts in the Fall, Spring, and Summer terms.
No, this degree program does not follow a cohort model.
Visit our FAQ page