You Don't Have to Put Off Your Plans.
Advancing your education might seem intimidating right now, but it doesn't have to be the case. Control your future with a flexible and affordable online program at Concordia University, St. Paul. You'll receive the same quality education as our on-campus students while connecting on your tablet, mobile device, or computer. And with our generous financial aid packages and transfer credit policy, you can start achieving your goals now.
Why Choose CSP Online?
Affordability: We offer competitive tuition rates that are frozen from enrollment for the entirety of your program — as well as scholarships, tuition discounts for active military students, and, currently, waived application fees.
Flexibility: Study when and where you want with a 100% online program that works with your personal and professional commitments.
Generous Transfer Policy: Save time and money by transferring up to 90 credits to CSP (you can receive a $2,000 scholarship for transferring your associate degree credits).
One-on-One Mentoring and Support: Whether you need tech help, some study tips, or assistance choosing classes, you'll receive personalized help from the moment you apply to graduation.
A Guide to Online Bachelor's Degrees Post Pandemic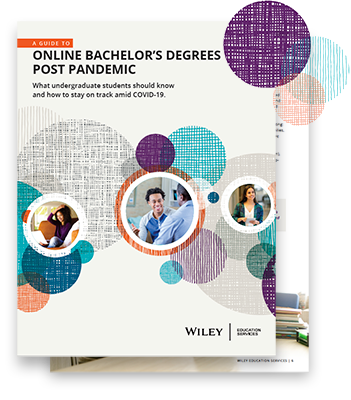 Completing an education online may be the only option for many students to stay on track while remaining safe during this pandemic. Many students have questions and concerns regarding online education. At Concordia University, St. Paul, we strive to provide you with the necessary information to make your education decisions confidently.
To answer your questions and address your concerns, we offer the following guide created by Wiley Education Services, in partnership with DegreesOnline.com, A Guide to Online Bachelor's Degrees Post Pandemic: What undergraduate students should know and how to stay on track amid COVID-19. It addresses the impact of COVID-19 on education and informs readers about online learning. It includes information about the online student experience, myths vs. facts about online education, and the difference between proven online degree programs and emergency online instruction.
View the Guide