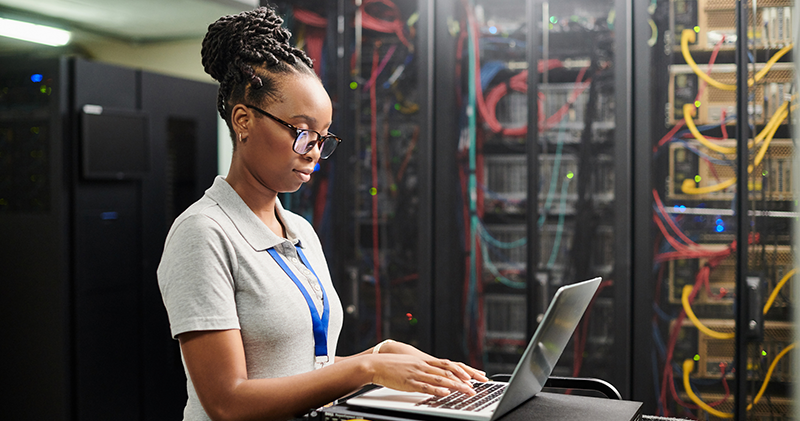 Your time in the U.S. military has been spent protecting the nation. Take the next step in your career by protecting the nation's data and building its networks with a rewarding position in information technology.
Advancements in technology play a vital part in nearly every organization in all industries, making infotech one of the world's fastest-growing fields. From growing cybersecurity concerns to innovations in computer networks and everything in between, the demand for professionals with expert infotech skills is on the rise.
According to research by the Bureau of Labor Statistics, the field of information technology will expand by 13% through 2030, and more than 667,000 new jobs will be created during this time. This research also showed that the median annual salary of all infotech professionals in 2021 was $97,430, which is more than double the median annual salary for all industries.
Like any decision about your career, choosing to pursue information technology as your next professional step is a big decision that comes with many questions. Keep reading for answers to some of the most frequently asked questions by military students interested in information technology careers.
Questions Commonly Asked About Information Technology Jobs
What should I know about the field of information technology before choosing it for my career?
The field of information technology is vast and spans nearly every professional industry. Before choosing this field for your career, you should know that infotech skills will translate from industry to industry, granting you countless opportunities as you grow as a professional.
From marketing, education, manufacturing, finance, leadership, and beyond, information technology allows professionals in every field to work efficiently and securely. Regardless of the field you're interested in, professional information technology skills are in demand in every industry and can help you land an essential role with a variety of organizations.
You should also know that infotech can be a highly lucrative field, with some of its most experienced professionals earning as much as $208,000 annually. The Bureau of Labor Statistics reports that the median salary for all industries is $45,760, and the median salary for information technology careers is more than double. Additionally, the field is expected to create hundreds of thousands of new jobs nationally throughout the decade, increasing the number of professional opportunities you will have.
What military skills come in handy for infotech jobs?
Because the infotech field is so vast, having a diverse set of military skills is essential for success. Your military-based technology skills will serve as a solid foundation for whichever career you choose in this field.
Your experience defending the country will help you also protect the country's private data in cyber and information security roles, while your expert problem-solving skills and your ability to make executive decisions and strategize complex plans for defense will give you the competitive edge you need for the infotech career you want.
What if I don't have any previous experience in technology?
Previous technology experience is not required to get into the infotech field. Because this field is in high demand for new professionals, there are many infotech training and education programs designed for specific companies and areas of expertise in the industry.
Your basic military training offers plenty of beginner-level education for a variety of professional fields, including information technology. Your training and an associate or bachelor's degree in or related to information technology will prepare you for the first step in an infotech career.
What degree is required to become an infotech professional?
Many entry-level information technology jobs are attainable with either an associate or bachelor's degree. Starting your education with a two-year associate degree in science or liberal arts will provide the academic foundation you need to build skills for a variety of jobs, and you can transfer associate credits to a bachelor's degree program.
With an associate degree, you'll qualify for infotech jobs such as:
Software application tester
Computer support specialist
Completing a bachelor's degree in information systems, computer science, or a related field is a standard education requirement for many entry-level and advanced infotech jobs.
With a bachelor's degree, you'll qualify for infotech jobs such as:
Computer systems analyst
Information security analyst
Database administrator
IT project manager
Operations research analyst
After completing your bachelor's degree, you can advance your career by continuing your education with a master's degree in information technology or a related field. A master's degree will open the door to leadership opportunities and positions that offer the highest compensation in the field.
With a master's degree, you'll qualify for infotech jobs such as:
Computer and information systems manager
Network and computer systems administrator
Chief information officer
Computer network architect
IT consultant
IT manager
Career advancement in this field is competitive. However, your military training and experience, supplemented by the right degree programs, can provide you with the edge you need to attract employers and become the preferred candidate for the jobs you want.
What does an infotech student study?
Information technology students study current and state-of-the-art computer technologies to build an academic foundation for a rapidly advancing field. Many infotech degree programs offer foundational business courses to prepare students for work in business environments and technology fundamentals. Regardless of the degree program you choose, you can count on studying a variety of topics, like strategic communication, information security and network defense, data analytics, database design, artificial intelligence, applied systems, and more.
Long-Term Rewards: Infotech Jobs
Now that you've found answers to some of the most frequently asked questions about infotech and how to break into the industry, explore the details of potential employment outcomes for this in-demand field.
Computer Systems Analyst
Median Annual Salary: $99,270
Current Industry Growth Rate: 7%
Computer systems analysts help organizations become more efficient and effective through new technologies. In this position, you'll apply expert information technology knowledge to business strategy by assessing the technological needs of a company. You'll determine the computer systems that will enhance the functionality of the business and impact the bottom line.
Information Security Analyst
Median Annual Salary: $102,600
Current Industry Growth Rate: 33%
Information security analysts answer the call to address the growing problem of information breaches worldwide. You will protect an organization's computer systems, networks, and data in this role. You'll also demonstrate extensive knowledge of cybersecurity concepts to detect and investigate security breaches and determine the best available security software to protect your company.
Computer and Information Systems Manager
Median Annual Salary: $159,010
Current Industry Growth Rate: 11%
Computer and information systems managers oversee the technologies used by an organization. In this role, you'll determine the organization's technology needs and choose the best computer systems available to support the business's bottom line. You'll also assess the cost and benefits of new technologies, recommend upgrades and new equipment to the company's financial administrators, research the latest technology, and manage other infotech professionals.
Network and Computer Systems Administrator
Median Annual Salary: $80,600
Current Industry Growth Rate: 5%
Network and computer systems administrators oversee the daily operations of networks at an organization. In this role, you'll install all new technology equipment, software, network security, and data storage systems. Additionally, you'll also manage the use of all equipment and train other employees from diverse departments on how to use the company's latest technology.
Computer Network Architect
Median Annual Salary: $120,520
Current Industry Growth Rate: 5%
Computer network architects secure and protect an organization's private data and communications. In this role, you'll ensure all databases and information storage systems used by a company operate through proper computer networks. You'll also oversee a department's intranet, develop solutions for connectivity issues, and prevent information security breaches.
Make a Name for Yourself as a Leader in Infotech
The difference between an information technology professional and a successful leader in infotech is the right education. Your U.S. military training was the first step toward a lasting career. Take the next step with a degree program designed to enhance your skills and prepare you for a rewarding and lucrative field that's constantly evolving.
Concordia University, St. Paul is a bronze-level Military Friendly® school that offers an academic pathway to in-demand infotech careers with its online Bachelor of Science in Information Systems degree program.
With CSP, you can finance your education with your military benefits through the GI Bill® and the Yellow Ribbon program. Additionally, you may also be awarded college credit for your military experience and receive an active-duty tuition discount. Complete the bachelor's degree in four years and the master's degree in just two, and begin your career as a leader in one of the world's fastest-growing fields.
CSP's online courses are taught by expert faculty and allow you to learn from wherever your busy schedule leads you. Access your coursework on your time in an interactive, virtual classroom that provides the flexibility you need to balance your education with your full-time personal commitments.
Are you ready to impact the future as a leader in infotech?
Request more information today!
Recommended Articles
View All