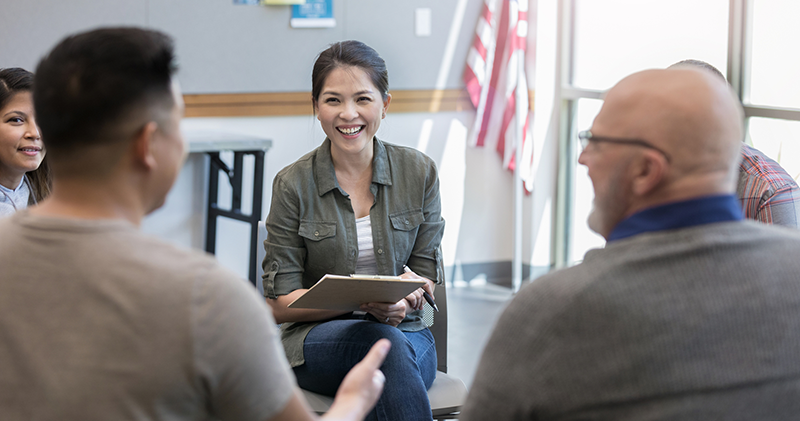 Abundant new career opportunities await you as you transition from active duty military to veteran status. With experience in leadership, strategic planning, training, and collaboration, there are countless fields that can benefit from your military expertise.
While many veterans seek career opportunities that relate to their technical skills, the field of family science is one that can be positively impacted by veterans.
What is Family Science?
According to the National Council on Family Relations (NCFR), family science is "the study of families and close interpersonal relationships." This study pertains to the prevention of relationship problems, the resilience of individuals to overcome current or potential obstacles within the family, and maintaining healthy relationships.
Family science professionals offer a variety of counseling and intervention services. These services are designed to assist individuals in leading successful lives by helping them establish a solid foundation for trust and acceptance.
This foundation is especially important for active duty military members who may be struggling to maintain interpersonal relationships or are separated from their families during deployment. This is where a veteran can step in to make a difference.
As a veteran, you have first-hand experience in the challenges of military life and the importance of strong interpersonal relationships. Could applying your experience to help others be the right next step for your career?
Continue reading to learn about in-demand family science careers and explore the diverse pathways you can take to start your next mission in this field.
Family Life Educator
A family life educator works to strengthen the complex relationships within families and build resilience in challenging times. They meet with individuals in group and private settings to share prevention education and help them overcome hardships.
These professionals determine factors in interpersonal and family relationships that may need improvement and deliver the proper education needed to make positive changes. Education materials may include information on children and parent relationships, methods for improving the self-esteem of individuals throughout the lifespan, human development, strategies for making decisions that benefit the family as a whole, and effective communication skills.
While family life education services are available to diverse families from all backgrounds, some professionals may focus their work on helping those in need of assistance with specific issues, such as parenting, gender roles, sexuality, work-family balance, economics, and more.
Industry Outlook
Employment opportunities are abundant for family life educators, as professionals in this area are needed in schools, nonprofit organizations, community health and education centers, health care facilities, and more. According to the Bureau of Labor Statistics, the field is currently growing at an annual pace of 17%, and 21,000 new jobs are expected to be created by 2030.
Education Requirements
To qualify for a position as a family life educator, you must complete a bachelor's degree in a field related to education, health care, public administration, ministry, or psychology. Although a master's degree is not required for entry-level employment, graduate education can help you qualify for career advancement and professional growth opportunities.
To become a certified family life educator in the United States and Canada, you must also earn the Certified Family Life Educator (CFLE) credential. This credential can be obtained through the CFLE exam and offers a provisional certification to recent graduates who have completed a bachelor's degree but do not meet the minimum professional experience requirement. The full certification is available to those who have completed both their education and the required experience.
Median Annual Salary: $56,000
Family Counselor
A family counselor works with members of a family to promote stability within relationships, help them overcome communication barriers and build strong, lasting bonds. These professionals work directly with families in both group and individual sessions, and they develop plans of action to solve relationship problems and improve family life. Your unique experience as a veteran may directly relate to the common problems faced by military families, allowing you to make a significant impact in the lives of current military members.
When it comes to family counseling, many professionals in the field use a variety of therapeutic methods to effectively reach all individuals. The age, education, and relationship statuses of members of a family may play a role in the type of therapeutic strategy a professional in this field chooses.
Industry Outlook
Most family counselors work in private practices or counseling centers, while others are employed by schools, medical facilities, and the government. According to the Bureau of Labor Statistics, the need for family counselors in every area is on the rise, with the field expected to expand by 16% through 2030. This growth is projected to create 12,000 new jobs.
Education Requirements
To become qualified for a job as a family counselor, you must complete both a bachelor's and a master's degree in psychology or a related field. While a master's degree isn't required for all entry-level counseling careers, it is often required by many employers and can open the door to career advancement and professional growth opportunities within the field.
Average Annual Salary: $51,340
Family Support Worker
A family support worker helps individuals access the resources they need to lead healthy, productive lives and maintain strong relationships. While families of all backgrounds may seek support services for a number of different circumstances, many are in need of assistance for mental health, medical, financial, addiction, or legal reasons.
Family support workers meet with individuals in private and group settings to discuss their challenges and obstacles and determine the most beneficial resources available. Once an attainable solution is established, these professionals remain in contact with the families to ensure they continue their progress and have everything they need for future success.
Industry Outlook
Most family support workers are employed through family and individual support services agencies. However, these professionals are needed in a variety of fields, including health care, education, community services, and the government. The Bureau of Labor Statistics reports that family support services are in high demand, with the field expected to grow by 17% through 2030. This growth will create more than 69,000 new jobs.
Education Requirements
The education required to become a family support worker varies depending on the employer. Earning at least a bachelor's degree in or related to human services, psychology, or sociology will help you stand out among fellow applicants and prepare you for advanced opportunities. Additionally, completing a master's degree will help you qualify for leadership positions within family support services.
Average Annual Salary: $35,960
How a Veteran Can Make a Difference
From interpersonal relationships to mental health obstacles to financial stability and everything between, all families face challenges. Military families, however, have their own unique set of challenges they must face.
In a recent survey conducted by Military Times, a group of active military members, veterans, and their families were asked to identify their most stressful challenges of military life. The possibility of relocation or deployment and time away from family were among the most common responses.
These issues make an impact on mental health, increasing the number of military families who seek counseling and education services. According to research published by Frontiers in Psychology in the National Library of Medicine, military members and their families are more likely to seek counseling and mental health services professionals who are veterans.
As a veteran, you have experienced many of the common circumstances current military members are facing today. With a career in family science, you can utilize your experience to relate to military families and help them overcome military life's biggest challenges.
The Next Step Starts with Concordia University, St. Paul
Concordia University, St. Paul offers online degree programs designed to elevate your professional potential for family science and succeed in the career you want.
No matter where your busy life takes you, CSP's interactive, online classroom will help you achieve your goals on your time. Access course materials at the time and place of your choice and complete your education at your pace. You'll become immersed in a community of learners and build career-ready skills with support from expert educators who are committed to preparing you for what's next.
Choose your program to get started:
Contact an enrollment counselor to learn more today!
Recommended Articles
View All