Manage risk and develop policies with a cybersecurity degree online
Prep for CISM Certification
Help Companies Protect Systems
Learn More Today
Complete the form to learn more about this program.
Duration

2 years

Cost per Credit

$625

Credit Hours

30
Program Benefits
Cybersecurity enterprise, ethics, governance, and management
Respond to incidents, threats and vulnerabilities
Now accepting applications – no app fee, GRE or GMAT required
Multiple scholarship options available
A cybersecurity degree to prep for your CISM exam
You have a goal to advance in your current role or enter an upper-level information security position. With a cybersecurity degree online at CSP, you'll incorporate forward-thinking methodologies like DevOps with knowledge needed to pass the Certified Information Security Manager (CISM) exam, the predominant certification in the tech space.
A cyber security degree teaches you to employ defensive strategies to protect corporations from threats, vulnerabilities and attacks and have plans in place to mitigate and recover from incidents when they occur.
CSP has a 95% job placement rate within one year of graduating, and you have the opportunity to connect with alumni in the industry through our Mentor Collective.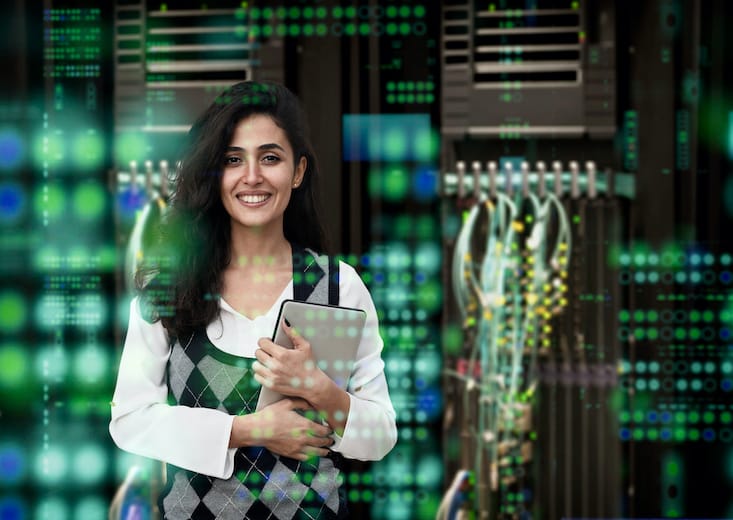 Curriculum
The M.S. in Cybersecurity is 30 credit hours. You'll study business strategy, ethics in IT, risk management, malware and intrusion analysis, IT project management, research in IT, and managing a secure enterprise.
Curriculum
Interpret how to understand business strategy and how IT strategies and enablement support it. Topics include understanding ethical applications in managing technology, along with how organizations are managed for self-learning in order to manage technology and innovation. The program also explores project delivery methodologies and how to manage a technology organization.
Analyze how to manage security risks and how to develop security policies to protect the organization.
Discover how identity and access management protects assets and how firewalls and other security operations technology keep bad actors, nation-states, and hacktivists out of a firm's network.
Identify how incident and vulnerability management detects, analyzes, contains, and mitigates network and application vulnerabilities.
Discover how malware and intrusion detection analysis is done, feeding into tactical intelligence coordination to provide cybersecurity and defense for an organization.
Define how best-in-class security departments offer firms resources such as security communications, product management, and security metrics to help manage the organization's security footprint.
Tuition Details
CSP's online cybersecurity degree costs $625 per credit hour. The total cost of the program is $18,750. Convenient payment options and $2,000 partnership scholarships are also available to make your education even more affordable.
You'll have support from expert faculty members at CSP, who will be there to answer your questions and guide you throughout your online cybersecurity degree. It's yet another way that the online format mimics the experience of studying at campus. Hear from one of our faculty members, Randy Carlson ABD, CISM, PMP, in an interview about the Master of Science in Cybersecurity Program at Concordia University, St. Paul.
Online programs from Concordia University, St. Paul are designed for your busy lifestyle. You can study at your convenience while taking advantage of synchronous or asynchronous coursework. With our flexible online framework, you'll get to know your peers and faculty while engaging in unique assignments and activities. Explore the various ways that you will receive support through every stage of the online learning experience, and discover tips about how to maximize your resources.
Online Experience
In addition to financing your online education with federal student aid and private loans, CSP offers online students a tuition discount (this limits eligibility for institutional scholarships). Transfer students could receive $2,000 or more through transfer partnerships and transfer student awards. CSP is also a Military Friendly® institution. An enrollment counselor and tuition planner will help you apply for financial aid.
Tuition & Aid
Frequently Asked Questions
Are you interested in one of Concordia's online programs? Get answers to the most frequently asked questions about time to completion, accreditation, tuition and fees, admissions, and more. If applicable, you can also learn more about licensure, concentrations, or specializations offered in the program. Get more information about any online program or contact an enrollment counselor at (855) 641-2525 with further questions.
You can complete the MS in Cybersecurity in as few as 20 months.
The 30 credits cost $625 per credit hour, totaling $18,750. You can transfer up to 50% of equivalent coursework approved by the Chair of the MS in Cybersecurity program. If you transfer the maximum transfer credits (50%), your total tuition can get as low as $9,375 before scholarships and financial aid.
No GMAT/GRE is required for the MS in Cybersecurity.
No specific work experience is required, although security experience is recommended.
Yes, you can transfer up to 15 credits into the MS in Cybersecurity program.
To apply, you must complete the online application, submit official transcripts, and write a brief personal essay. See the Admissions Requirements page for more information.
Visit our FAQ page