Certificate in Data Analytics
Make decisions and strategize as a data analyst
Learn More Today
Complete the form to learn more about this program.
Duration

7 months

Cost per Credit

$625

Credit Hours

12
Program Benefits
Add specialized knowledge to your bachelor's degree
Study under data analytics instructors from varied industries
Now accepting applications – no app fee
Enter an in-demand industry
Open the door to data analytics jobs with a flexible, 12-credit hour certificate
Start to earn a data analytics salary in seven months with CSP's Certificate in Data Analytics. Virtually every industry is in need of data experts who have the skills to organize, visualize, predict and store data. Get the in-demand knowledge from industry pros to apply to various fields.
CSP's certificate gives you a fast track into data analytics jobs, and if you opt to take learning further, you can apply your certificate credits toward the Master of Science in Data Analytics.
CSP supports you with affordable tuition, no app fee, multiple scholarships, and convenient payment plans.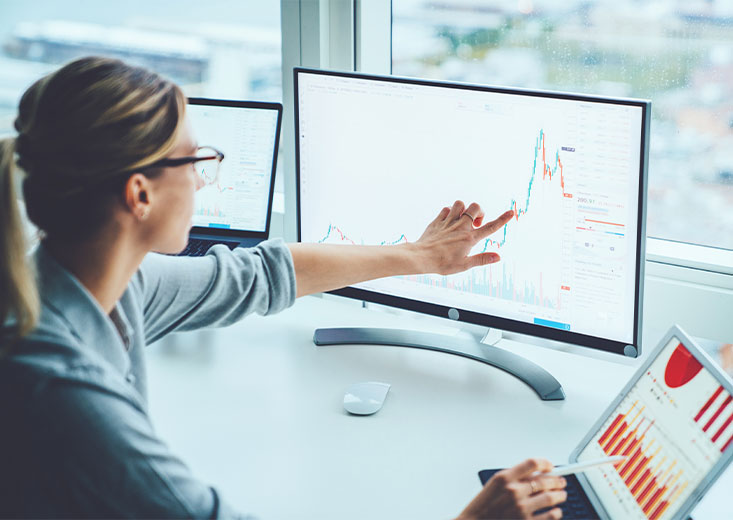 Curriculum
The online data analytics certificate is 12 credit hours. You'll study the fundamentals of data science and data analytics while exploring programming for analysts, big data analytics, and decision support systems for business intelligence.
View Courses
Manage an organization's technology and innovation through self-learning and ethical perspectives.
Compare and contrast different delivery methodologies in order to manage a technology organization and their respective teams.
Interpret the tools and techniques related to prescriptive, descriptive, and predictive analytics.
Discover the concepts of decision support systems (DSS) for business intelligence (BI), including decision-making, data components, model components, and the use of user interfaces.
Assess various aspects of big data analytics by identifying the tools, technology, applications, use cases, and research directions used in the field.
Explore predictive models used in analytics, determine non-linear extraction of big data analytics, and study methods in data mining and large-scale data clustering.
Tuition Details
The certificate in data analytics program from CSP costs $625 per credit hour. Total tuition is $7,500, and convenient payment options and $2,000 partnership scholarships are available to make your education as affordable as possible.
You'll have support from expert faculty members at CSP, who will be there to answer your questions and guide you throughout your online data analytics certificate. It's yet another way that the online format mimics the experience of studying at campus.
Online programs from Concordia University, St. Paul are designed for your busy lifestyle. You can study at your convenience while taking advantage of synchronous or asynchronous coursework. With our flexible online framework, you'll get to know your peers and faculty while engaging in unique assignments and activities. Explore the various ways that you will receive support through every stage of the online learning experience, and discover tips about how to maximize your resources.
Online Experience
In addition to financing your online education with federal student aid and private loans, CSP offers online students a tuition discount (this limits eligibility for institutional scholarships). Transfer students could receive $2,000 or more through transfer partnerships and transfer student awards. CSP is also a Military Friendly® institution. An enrollment counselor and tuition planner will help you apply for financial aid.
Tuition & Aid
Frequently Asked Questions
Are you interested in one of Concordia's online programs? Get answers to the most frequently asked questions about time to completion, accreditation, tuition and fees, admissions, and more. If applicable, you can also learn more about licensure, concentrations, or specializations offered in the program. Get more information about any online program or contact an enrollment counselor at (855) 641-2525 with further questions.
You can complete the Certificate in Data Analytics in about seven months.
The total tuition for the Certificate in Data Analytics is $7,500 before scholarships and financial aid.
Yes, you can transfer up to five credits into the Certificate in Data Analytics program.
To apply, you must complete the online application, submit official transcripts, and write a brief personal essay. See the Admissions Requirements page for more information.
The Certificate in Data Analytics has three start dates throughout the year, in January, May, and September.
Visit our FAQ page